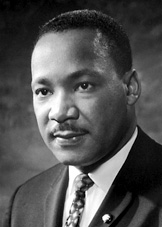 Out of the respect for the person he was and the progress he made for all of mankind
San Diego, California (PRWEB) January 16, 2012
Market Target, a leading provider of SEO in San Diego, San Diego SEO Services and San Diego SEO Consulting Services announced today a special offer for minority owned businesses during the month of January. Market Target is providing a 50% discount off of all SEO services and packages for minority owned businesses. With the effects of the economic problems felt throughout America in this country's small businesses, Market Target felt the best way to help kickstart lead generation and sales is to improve their rankings within the major search engines. Market Target President Dave Wiedmaier stated "Dr. King made history fighting for a cause that our country had struggled with since the beginning. Out of our great respect for the person he was and the progress he made for all of mankind, we are providing this offer." Wiedmaier also stated that this offer is extended to Search Engine Optimization Consulting.
Interested parties should contact David directly to take advantage of this special offer.
About Martin Luther King, Jr.
Martin Luther King, Jr., (January 15, 1929-April 4, 1968) was born Michael Luther King, Jr., but later had his name changed to Martin. His grandfather began the family's long tenure as pastors of the Ebenezer Baptist Church in Atlanta, serving from 1914 to 1931; his father has served from then until the present, and from 1960 until his death Martin Luther acted as co-pastor. Martin Luther attended segregated public schools in Georgia, graduating from high school at the age of fifteen; he received the B. A. degree in 1948 from Morehouse College, a distinguished Negro institution of Atlanta from which both his father and grandfather had graduated. After three years of theological study at Crozer Theological Seminary in Pennsylvania where he was elected president of a predominantly white senior class, he was awarded the B.D. in 1951. With a fellowship won at Crozer, he enrolled in graduate studies at Boston University, completing his residence for the doctorate in 1953 and receiving the degree in 1955. In Boston he met and married Coretta Scott, a young woman of uncommon intellectual and artistic attainments. Two sons and two daughters were born into the family.
At the age of thirty-five, Martin Luther King, Jr., was the youngest man to have received the Nobel Peace Prize. When notified of his selection, he announced that he would turn over the prize money of $54,123 to the furtherance of the civil rights movement.
About MarketTarget
Since 2009, MarketTarget has been a leading provider of Search Engine Optimization, Search Engine Marketing and SEO Training Services. As a full service San Diego SEO services firm, MarketTarget also offers full service web marketing, SEO consulting services and custom SEO training options specifically tailored for small businesses. What sets Market Target apart from the competition is a mixture of Results, Communication, Pricing and Service. Our team of SEO Consulting Experts is focused on delivering SEO Services for San Diego, Los Angeles, Phoenix, San Francisco and Las Vegas. To learn more about what Market Target can do for you, please call 877-828-0196, email us marketing(at)markettarget(dot)com or visit our website at http://www.markettarget.com
Market Target has offices in the following locations;
Market Target Carlsbad
1902 Wright Place Suite 200
Carlsbad, California 92008
877.828.0196
Market Target San Diego
445 Eastgate Mall Suite 200
San Diego, California 92121
858.433.8659
Market Target New York
590 Madisson Avenue
New York City, New York 10022
212.256.9141
###