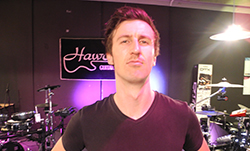 Students can learn the basics of the ukulele in primary school, initially learning simple chords and moving on to playing popular music in groups
(PRWEB) February 21, 2013
Glenn Haworth from Haworth Music Centre has just announced the company's latest Facebook competition prize - a Martin Ukulele Package. This, he says, is in recognition of the renewed embracing of this somewhat humble instrument, particularly in schools.
Haworth Guitars has been stocking ukuleles for years, but has noticed a dramatic increase in the number of parents buying them for their school children as the instrument to be learned for their basic music education in the school system.
"We have ukuleles that are priced for primary school students - and I'm talking around twenty-five dollars - so we have the kids' instruments well covered," said Mr. Haworth. "But by offering a premium product, one of the famous Martin Guitars Ukulele range, as our latest prize, we want to encourage people to take their regard for this instrument a step higher."
For decades the instrument that was introduced to Australian students in primary school, and which many trainee teachers had to learn, was the recorder. Teachers and parents now agree that the sound of a ukulele earner, or thirty of them, is much more preferable to hearing "Three Blind Mice" being played off key on the recorder - over and over again.
"Students can learn the basics of the ukulele in primary school, initially learning simple chords and moving on to playing popular music in groups," explained Mr. Haworth. "As they get older and their techniques improve, it's only natural that they will look for a better quality instrument. With our range, and experienced team, we are able to meet the needs of all levels of uke player."
The prize pack, valued at over $1000 retail, includes the Martin OXK Ukulele, gig bag, hard case, guitar stand, humidifier and stool. There is no charge to enter the competition.
"Whether for the experienced ukulele player, or the student who wants to take their learning to a higher level, this prize pack will make playing their ukulele so much more comfortable and enjoyable," said Mr Haworth.
Details of the competition, which closes on March 31, can be found at Haworth Music Centre.
About Haworth Music Centre
Luthier, Phil Haworth established Haworth Guitars in 1999, with a focus on building and repairing stringed instruments. In 2000 the transition from workshop to retail space was made, and in 2008 the two-level Haworth's Music Centre, with adjacent Warehouse, was opened in Albion Park Rail, just south of Sydney, Australia.
Phil has returned to his love of guitar-building and the business is now run by his son, Glenn, who in 2011 became General Manager. The Haworth team is comprised of young people who live their passion for music and musical instruments.
Haworth's ability to remain very competitive in an online world rests with its warehousing capabilities and strong online presence.
Visit the Haworth website at http://www.haworthguitars.com.au