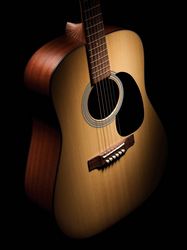 Medford, OR (PRWEB) April 1, 2009
Responding to the troubled economy, C.F. Martin and Company has announced the introduction of a new 1 Series, a lineup of value-oriented Martin guitars based on instruments the company introduced during the Great Depression. Direct music-gear marketer Musician's Friend is accepting preorders starting today and expects to begin shipping the acoustic guitars in late May.
Originally introduced during the Great Depression and later morphing into the company's iconic D-18 and D-28 models, the Martin "1 Series" Guitars met the market's need for a powerful, full-bodied instrument at an affordable price. In the spirit of those instruments, now highly prized by musicians and collectors, the new 1 Series has been updated with solid sapele bodies and solid spruce tops that produce full-bodied, legendary Martin tone. The company also specified their innovative Stratabond neck design for strength and stability.
Keith Brawley, VP of Merchandising and Creative for Musician's Friend observed, "Musician's Friend is always excited when a new Martin guitar is announced. It's particularly timely that Martin has chosen to build such a high-value instrument as this now, responding to the economic challenges of the country. The 1 Series guitars simply sound phenomenal. We believe that they will be extremely popular and in very high demand throughout the year and look forward to supporting our valued vendor partners at Martin and our loyal guitar customer."
History Snapshot:
C.F. Martin and Company is a family-run business that, for six generations, has crafted guitars in the United States and is credited with inventing the dreadnought body style. This larger instrument arose from the need for more volume when guitars were played in orchestras. In creating the dreadnought, Martin developed a larger and deeper body style to increase the guitar's projection, allowing it to compete with louder instruments. Martin named these bigger-bodied models "dreadnoughts" after the behemoth battleships used in the WWI.
The first two dreadnoughts, the D-1 and D-2, were produced in 1931 and soon evolved into the now legendary D-18 and D-28. During the Depression, Martin continued to innovate and introduced several new style models, including the all-mahogany Style 15 and Style 17 models, which became favorites of blues players in the post-Depression era. The styling of the four new 1 Series models is reminiscent of the original dreadnoughts and other Martin guitars from the Great Depression era.
Designed in the spirit of Martin's Style 15 and Style 17 models, all four 1 Series guitars feature modified hybrid scalloped top bracing and solid-wood bodies. Two are purely acoustic guitars offered at $899: a Martin D-1 Dreadnought Acoustic Guitar and an Martin OM-1 Orchestra Model Acoustic Guitar. The other two are acoustic-electric cutaway models offered at $1,099: the Martin DC-1E Dreadnought Acoustic-Electric Guitar and the Martin OMC-1E Orchestra Model Acoustic-Electric Guitar. Both are equipped with a state-of-the-art Fishman sound reinforcement system with volume and tone control as well as an onboard digital chromatic tuner. All four instruments include a limited lifetime warranty and come with a Martin hardshell case for protection.
About Musician's Friend:
Musician's Friend, Inc. is the world's largest direct marketer of musical instruments and has been headquartered in Medford, Oregon, since its inception in 1983. With more than 70,000 unique products for sale, the company covers a wide range of musical needs, including guitars, basses, amplifiers, keyboards, live sound, recording equipment, drums, percussion, woodwind, brasswind, and orchestral stringed instruments, as well as related accessories that are marketed through its print catalogs and websites, including musiciansfriend.com.
The Musician's Friend website also offers informative musicians' resources, including in-depth buying guides, tech tips, hands-on gear reviews, articles from highly respected music industry professionals, interviews with well-known artists, and a half-million customer-written product reviews and ratings.
With warehousing in Kansas City, Missouri, and a call center in Salt Lake City, Utah, Musician's Friend can be contacted at 800-776-5173 or by visiting http://www.musiciansfriend.com
Musician's Friend is a wholly owned subsidiary of Guitar Center, the world's leading retailer of musical equipment.
Questions regarding this press release should be directed to contact(at)musiciansfriend(dot)com.
###