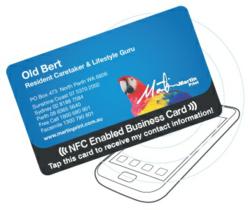 Your custom-designed NFC Cards will perform practically any function that you ask it to.
The possibilities are endless...
North Perth, Western Australia (PRWEB) May 08, 2013
The future is digital. The traditional Business Card is dead. Or is it?
New NFC Business Cards have just been launched this week from Martin Print, and promise to deliver an extra thrilling dimension to the stunning unique designs of a physical Business Card. In fact, it could be the biggest and most radical development in Business Card design in the last four centuries.
For quite a while now, some experts have been predicting the demise of the humble Business Card, as it was widely assumed that business owners in the digital age would eventually turn their interest towards virtual electronic alternatives. But the enduring appeal of the traditional Business Card continues to confound the critics, even after 400 years of tireless duty!
It would seem that the overwhelming majority of business owners still prefer the reassuringly physical ritual of passing on a genuine slice of vivid design, instead of the cold and lifeless digital equivalents.
But what if an entrepreneur could have the best of both worlds? A stunningly designed Business Card in a traditional style, but crammed full of incredible hidden digital features which can be unlocked with just one quick tap from a Smartphone?
The new NFC (Near Field Communication) Cards are embedded with a tiny, fully customisable microchip which opens up a whole new world of opportunities to explore on the Smartphone screen. Recipients simply 'touch' the card with their phone to unlock the cool digital features and functionality.
Martin Print has been serving the Australian SMB sector for over ten years with premium quality printing and professional graphic design services.
Martin Russell, the founder and driving force behind the business, believes that the arrival of NFC Cards heralds a new chapter in passing on and sharing all your vital contact information and marketing content.
"Your custom-designed NFC Cards will perform practically any function that you ask it to," explains Russell.
"The real beauty of these Next Generation Business Cards is that you are in full control of the microchip. You have the option to quickly change the features and functions of each card as often as you like, via a simple-to-use Smartphone App. So you can effectively update your remaining stock of Business Cards with new digital content whenever a new opportunity arises!"
NFC Cards could potentially be configured so that recipients are directed straight to a business website, Social Media page, a special NFC mini-site, or indeed any relevant online content at all.
Just one tap of the Card with an NFC-enabled Smartphone could also load up an App, play music or video content, bring up a Map showing the location of a business with handy directions, or even transfer a business owner's crucial details directly into the contacts list of the recipient's Smartphone!
"The possibilities are endless," says Russell. "You could even configure the Card so that it places an immediate call or sets up an instant SMS to your Business!"
The Martin Print team are currently in the process of developing a new free NFC Smartphone App which will make the process of updating Business Card content simple and fun.
So, is the traditional Business Card really dead? Of course not. The ever-popular format looks set to endure for at least another 400 years.
But the arrival of this bold new generation of Business Cards ensures that those unique designs and styles will be now be packed with more digital power and genuine functionality than ever before…