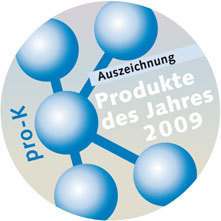 Green Bay, WI (PRWEB) January 26, 2009
The Easysafe was recently named "Product of the Year" for 2009 by Pro-K, the Industry Association for Plastic Semi-finished Products and Consumer Products.
Pro-K is a sponsor association of the General Association of the Plastics Processing Industry (GKV) and the European Plastic Converter (EuPC) Industry. The "Products of the Year" award recognizes creative, aesthetically pleasing, and outstandingly functional products made of plastic.
The Easysafe Safety Knife Sack Opener features a patented cutting head design allowing for easy initiation of the cut while maintaining blade contact with the material, even on single layers of film or paper. The piercing point allows for insertion of the cutter into all types of paper, plastic or multi-wall sacks. It works great for pallet wrapping too.
This cutter features an integrated replaceable tape slitter on the head of the knife which safely cuts packaging tape, eliminating the need for the typical exposed blade. The unit allows for an easy blade change - no tools required. The blade is rectangular in shape and can be used 4 times for economy. Optionally, the cutter is capable of being locked with a special key so that blade changing can be done only by authorized personnel. The Easysafe is "GS-Tested for Safety"
The Easysafe Safety Sack Opener will help to dramatically reduce accidents in industrial manufacturing plants and warehouses, where safety is the number one priority. For more information, visit http://www.martorusa.com.
This innovative safety cutter has been recognized with this award together other leading products in the plastic industry made by Tupperware, LEGO and Braun, who were also winners of this competition, but in different product categories.
About Martor:
Martor, Solingen, Germany, has been a global leader in the manufacture of high quality knives and blades for almost 70 years.Today, Martor produces almost 400 different styles of knives and cutters specific to industry. Martor is the undisputed market leader and continues to pioneer and develop the latest technology in safety cutters. In addition to Smart Knives, SLR knives and concealed blade safety cutters, Martor produces many bladeless cutters, Metal Detectable Plastic cutters, deburring tools and offers the largest variety of blade options.
###