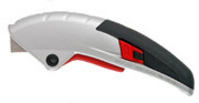 Green Bay, WI (PRWEB) April 12, 2010
MARTOR The Safer Cutting Specialists - again show their innovative strength by the introduction of the MARTego.
The MARTego safety knife combines new higher levels of both functionality and design. This is captured in the product branding which combines MARTOR and ergonomics. The application of good design and functionality is immediately evident on first sight of the MARTego which can be seen to incorporate an exceptionally stylish and ergonomic shape with the practicality of an aluminium body and soft, non-slip grip.
As a matter of course the MARTego is TÜV certified.
Its many features include a newly patent pending rotating blade retraction mechanism which makes it possible to cut plastic tape and pallet wrapping as well as cardboard and corrugated packaging. The fully automatic blade retraction system, activated by a squeeze lever, provides a high degree of safety because the blade retracts even when the squeeze lever is totally depressed.
When not in use, the MARTego's integrated lock button prevents the squeeze lever being accidently applied.
This brilliant new development "Made in Germany" by MARTOR KG also brings extra safety and convenience to blade changing. No tools are required for this task and an installed magnet stops the blade dropping out during the change. In addition the new blade no. 92 can be used four times in order to reduce costs and waste.
With its multiple innovations for making cutting tasks safer, easier and more comfortable for the user, the MARTego heralds a new era in safety knives.
About Martor USA
Martor USA, creators of hundreds of different safety knives has been in the business of supplying tools to industry since 1981. In that year, The Spoilage Cutter Company was incorporated in Wisconsin to sell a patented safety cutter to remove the outside layers of film or paper from a roll. This tool was called the Zepher Model 102. A few years later, a larger tool for the same purpose was developed, the Zepher 105. Then, in the early 90's we started importing several safety tools from the Martor Company in Solingen, Germany for resale to our customers. Because of the increasing demand for these tools and our growing sales of these products here in the U.S., we were awarded exclusive representation status in 1995. Early in 1999, we changed the name of our company to Martor USA, Division of The Spoilage Cutter Co., Inc. due to the further expansion of our sales of this unique line of outstanding products from Martor Solingen and offers the largest variety of blade options.
###