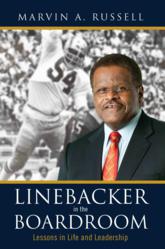 College football is out of control and losing all integrity - criminal and disruptive behavior of student-athletes and coaches must be addressed.
Chicago, Illinois (PRWEB) September 06, 2012
Marv Russell Global Leadership Expert, Speaker, Author and Former Notre Dame Linebacker, is on a mission and back in the linebacker position, taking on the toughest issue in college football - the loss of integrity and accountability in America's greatest collegiate sport.
Russell will be featured in fall editions of American Football Monthly, published by AFM Media and the NDNation.com "Where Are They Now?" where he will continue his challenge and crusade on college football to place the proper emphasis on the integrity and accountability of universities, administrators, coaches and student-athlete. Russell's fall book signing tour and speaking engagements will take him across the midwest and south where he will be focused on addressing out of control student-athlete behavior. His first stops will be at Notre Dame for the Purdue and Michigan home games. His Outskirts Press, best selling book "Linebacker in the Boardroom: Lessons in Life and Leadership engages and challenges us that no matter your role in life we must embrace integrity as a foundation our role in society.
"We love the excitement of the college football season however, college football is out of control and losing all integrity - criminal and disruptive behavior of student-athletes and coaches must be addressed."
Russell's concerns are real. We are seeing horrific behaviors - the demise of Penn State glory, Ohio State and USC probation and many more sanctions and scandals. There are countless, arrests of student athletes for everything from drinking and drug use to burglary and rape. And then we have football commentator Allen Pinkett's commentary that a university football team needs to have criminals on the roster to win.
Russell responded to Pinkett's comments with an adamant statement, "Allen you are wrong! We need more discipline, integrity and accountability in college football. The NCAA needs to set specific standards for behavior and how players and coaches are held accountable for their misbehavior!"
Russell doesn't mince words in his high-powered leadership messages. He believes the NCAA and college administrators must reassert a demand for integrity and accountability in college sports now. Whether he is speaking to high schools and universities or coaching and consulting with corporations, Russell demands what he has trademarked as Essential Exceptional Ethical Leadership™ behavior.
"Stop thinking about it! Stop talking about it! We must hold universities, coaches and players accountable for their behavior - not just wins and losses! You want to play the game? Then behave: and set an example for all of us and especially those coming behind you. These are institutions of higher learning and they need to act like it. Be Essential, Be Exceptional, Be Ethical."
Russell works with players, athletic directors and university leaders to change coach and player behavior. He believes a great deal of these leaders want to improve collegiate sports at their university: but with the reality of financial pressures, the question is often HOW? In Russell's keynote addresses, leadership work and research he challenges university leaders to become more accountable, anticipate potential issues and take action before situations get out of control.
"Leaders are notorious for reacting after the fact: that's too late. Why should we expect an 18-year old kid to be able to deal with the hype and pressures of college athletics? And remember coaches are not "Gods" – they are human beings, and they need direction. The world has no use for athletes and coaches who do not respect and are not held accountable to their university and teammates, family, community, society – losing a game is tough but being a jerk to the world and being irresponsible is intolerable."
Marv Russell, like all former Notre Dame players, is proud of his playing days and the historical philosophy of of this university's leaders who have worked, struggled and been committed to setting the proper standards to avoid and when necessary correct unacceptable student-athlete behaviors and actions.
"Notre Dame is no different than other schools with one exception – they work hard at "discernment". Do they always get it right? – No. But the discernment demanded instills balance. If they did anything less I would be greatly disappointed and I would call them out on their behavior. I commend ND's Jack Swarbrick for calling out our own Allen Pinkett for his comments last week."
Responding to Rick Reilly's ESPN article declaring Notre Dame to be irrelevant to college football, Russell roared back, "Rick Reilly doesn't get it. Notre Dame is more relevant than ever. It sets a standard of what should be demanded of any university. It is a model of ethical performance and what college football in America should be."
Russell believes we should have no tolerance for the prima-donna behaviors we see in sports. "I coach high performance leaders in the corporate and athletic world. We deal with leadership arrogance – an arrogance needed for success. But when this arrogance is out-of-control resulting in disruption, violation of ethics, and at times the law, something must be done. I often say this person's "Lucifer Genes" are out of control and I'm very clear about the choices: correct the problem now or leave.
University administrators must lead, give clear feedback and demand behavior change - Be willing to take some heat: have the Leadership Courage to look alumni in the eye and say we will not tolerate this behavior: We are willing to lose a game rather than to lose the integrity of the university and the respect of the community."
He points to the horrifically misguided escapades of Penn State leadership to finally get the NCAA to truly punish and leave a clear message of where the misguided god-worship of coaches and players has led student-athlete programs today. Sadly, what Penn State has realized is that one man did define the character of this institution – Joe Paterno.
"I love collegiate sports, but the men and women who lead must learn that they and the game are not bigger than the community and society we live in and their obligations to us."
For details on Russell's keynote speaking engagements, book signings, interviews and articles click on http://www.marvrussell.com.
About Marv Russell: Russell is the author of "Linebacker in the Boardroom: Lessons in Life and Leadership". After graduating from Notre Dame, he engaged a successful leadership career encompassing multiple industries and continents. Russell distinguished himself as a global professional; living and working abroad nearly 10-years with multi-national companies. Marv's strong leadership combined with his people skills and business acumen are key to his ability to engage, motivate and inspire individuals and organizations around the world.