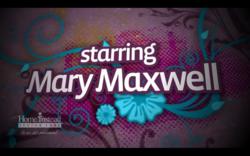 What started as a simple prayer quickly evolved into a comedic performance that brought down the house and attracted more than 8 million YouTube views.
Omaha, NE (PRWEB) October 18, 2011
Few spectators knew what was coming when 72-year-old Mary Maxwell stepped up to the podium to deliver the invocation at the 2009 Home Instead Senior Care® network's annual convention.
What started as a simple prayer evolved into a comedic performance that brought down the house. Business owners were rolling in the aisles.
"The thing about old age is you don't get to practice," quipped Maxwell, a former neighbor and friend of Home Instead Senior Care network co-founders Lori and Paul Hogan. "This is the first time I've ever been old . . . it just sort of crept up on me . . ." With the timing of a professional comedian, Mary shines a funny light on the foibles of aging, to the delight of this audience of senior-care experts.
During her seven-minute invocation, Maxwell mocked what it means to grow older including random hair growth, driving into the wrong end of the car wash and wearing mismatched earrings.
Now Maxwell is back with new material at "Laughing with Mary" on CaregiverStress.com℠. What's more, Maxwell, now 75, is a regular contributor to Caring Connections®, a free newsletter for family caregivers that will feature her sage advice and other humorous anecdotes for family caregivers.
In addition, CaregiverStress.com features valuable resources for family caregivers including:
1. "Ask Dr. Amy," an advice column from Dr. Amy D'Aprix, MSW, PhD, CSA, a life transition consultant, author, professional speaker, facilitator, coach and expert in aging, retirement and caregiving.
2. Helpful tips on a variety of topics including planning for care, senior safety, financial issues, caregiver communication, fitness and nutrition, and social life and activities.
3. Educational videos on topics such as multigenerational living, senior nutrition, living at home with arthritis, how to help your senior manage medication, senior cognitive issues, long-distance caregiving and in-home care during a recession.
4. A Caregiver Stress Meter, developed by a group of eldercare and stress experts, to help determine what level of stress family caregivers may be experiencing.
"Family caregivers face many struggles each day from caring for seniors from a long distance to helping manage financial issues and senior safety," said President and Chief Operating Officer (COO) Jeff Huber of Home Instead, Inc., franchisor of the Home Instead Senior Care network of independently owned and operated franchise offices. "That is stressful. We provide the type of resources that can help family caregivers be better equipped for this demanding yet fulfilling job."
The company has invited the millions of viewers who shared Mary Maxwell's first video to check out her new Q&A videos, as well as all that's new on the CaregiverStress.com website.
ABOUT HOME INSTEAD SENIOR CARE
Founded in 1994 in Omaha by Lori and Paul Hogan, the Home Instead Senior Care® network is the world's largest provider of non-medical in-home care services for seniors, with more than 900 independently owned and operated franchises providing in excess of 45 million hours of care throughout the United States, Canada, Japan, Portugal, Australia, New Zealand, Ireland, the United Kingdom, Taiwan, Switzerland, Germany, South Korea, Finland, Austria, Italy and Puerto Rico. Local Home Instead Senior Care offices employ more than 65,000 CAREGiversSM worldwide who provide basic support services – assistance with activities of daily living (ADLs), personal care, medication reminders, meal preparation, light housekeeping, errands, incidental transportation and shopping – which enable seniors to live safely and comfortably in their own homes for as long as possible. At Home Instead Senior Care, it's relationship before task, while continuing to provide superior quality service that enhances the lives of seniors everywhere.
# # #