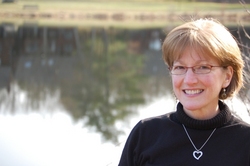 ...the writer was born to tell great stories.
Westford, MA (PRWEB) May 4, 2010
"Love's Compass," the new novel by Boston-area author Mary McAvoy, combines a captivating love story with a thought-provoking and timely examination of changing attitudes toward love, marriage, and divorce.
As her young adult children depart from the nest, Liv finds that her husband is drifting away, too. What is pulling him from her at a time when they should be enjoying their lives together? Feeling abandoned and alone, Liv meets and falls in love with another man. "Love's Compass" tells the story of love discovered at a time when new love is not often experienced.
Here's what readers say about "Love's Compass:"
"The writing in this novella is rich in prose and conveys very convincingly Liv's thoughts, feelings of conflict and a journey into her very soul. I found myself completely immersed in Liv's life, feeling the emotions expressed so powerfully by the writer. This was an amazing first novel and I look forward to her next book."
"(Love's Compass)...can be read as both a cautionary tale and a message of hope and faith as readers learn what direction Liv finally chooses as she follows her heart -- and love's compass... (It is) good storytelling and...a provocative look at American society's shifting attitudes toward the institution of marriage."
"...the writer was born to tell great stories."
Mary McAvoy became a writer after fibromyalgia and chronic fatigue abruptly halted her six-year return to the workforce after at-home parenting her two children. Not one to be idle, she turned on her laptop and began to write. Her nature essays and photos are featured at her blog SilverLining. More wide-ranging and topical essays appear on her blog titled sublime days.
She has captivated audiences at appearances in New Jersey and Massachusetts with her readings of sections of "Love's Compass" as well her new novel-in-progress, "I'd Love You There Again," a poignant story about an elderly woman who, on the day of her husband's funeral, looks back on her life in a New England mill town.
An interview with Mary McAvoy about "Love's Compass" appeared recently in newspapers from coast-to-coast and on dozens of websites.
"Love's Compass" is available for purchase at selected stores and online at Amazon and Barnes and Noble, and at the "Love's Compass" e-shop. It is available in hardcover ($22.95), paperback ($12.95), and Kindle ($8.95) editions. Signed copies are available through the e-shop site.
Mary McAvoy is available for interviews, readings, book-signings, and talks with book-discussion groups.
For more information, visit the Love's Compass website, or inquire by email.
Love's Compass
Hardcover: 156 pages
ISBN-10: 1440166323
ISBN-13: 978-1440166327
###