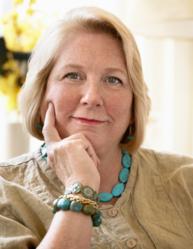 Long live the power of the humble greeting card! It is truly an honor to be recognized in this way!
St. Louis (PRWEB) April 12, 2013
After more than 35 years as one of the most prolific licensed artists in the world, Mary Engelbreit is being awarded the LOUIE Award for Lifetime Achievement by the Greeting Card Association (GCA) at the Louie Awards Gala on May 19. This first-ever honor, which will be given to St. Louisan Mary Engelbreit and Dutch artist Marjolein Bastin, is the highest honor ever bestowed upon a greeting card artist.
Mary Engelbreit's career in the greeting card industry began when she was in high school, selling cards for a quarter to Froelich's gift shop. Since then, Mary grew her licensed artwork business to include more than 6,500 products with more than $1 billion in lifetime retail sales. Mary's greeting cards feature her distinctive artistic style which has been described as "eclectic traditional" and she is also one of the most widely recognized contemporary artists globally.
"When I first started out printing and distributing greeting cards on my own, the back of every card read, 'Thank you from the bottom of my heart for buying this card'," said Mary Engelbreit. "Well, now I'd like to thank not only everyone who bought a card, but the entire industry for recognizing me with this amazing award. It's a wonderful thing to be able to make a living illustrating everyday experiences that connect with people and enable people to connect with each other on such a personal level. Long live the power of the humble greeting card! It is truly an honor to be recognized in this way!"
Engelbreit's signature artwork includes thousands of drawings that appear on greeting cards, books, calendars, stationary, fabrics, kitchen accessories, apparel and more. Additionally, she is one of a select few artists with three New York Times children's best sellers, a three time LIMA Award for "Licensor of the Year" winner as well as the editor-in-chief of the award-winning creative lifestyle magazine, Mary Engelbreit's Home Companion.
The award will be presented to Engelbreit at the 25th Anniversary Louie Awards Gala on Sunday, May 19 The Lighthouse at Chelsea Piers, in Manhattan, NY. Mary was born and raised in St. Louis, Missouri, where she lives with her family. Learn more by visiting http://www.maryengelbreit.com.
About Mary Engelbreit Studios
Founded in 1983, Mary Engelbreit Studios is an art licensing studio based in St. Louis, MO. Mary Engelbreit is the artist and CEO of the Studios and known for her distinctive illustration style, imbued with spirit wit and nostalgic warmth. The Studios license with dozens of manufactures to reproduce Mary Engelbreit original designs on gift and home décor products including calendars, greeting cards, books, best-selling children's books, stationary, fabric, crafts, kitchen accessories, dinnerware and other gifts and home accents. For more information about Mary Engelbreit and the Studios visit http://www.maryengelbreit.com.