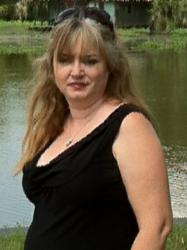 I would like to thank Klutts Jewelers, KQKI, and all the book lovers who came out and supported me in the pouring rain. Book signing was huge success in Morgan City,LA...and I couldn't have done it without you.
New Orleans, LA (PRWEB) August 27, 2012
The Hunter is a man who has a deadly rage, one that's getting harder and harder to hide. Deep in the bayous of the South, he's been perfecting his 'masterpieces', waiting for the perfect time to reveal himself as the artist he believes he is. Ready to show the world what he is capable of, he decides to start in the idyllic little town of Hope, Louisiana.
When the body of a missing young woman is found mutilated by the side of the road, the small town of Hope doesn't realize that it's only going to be the first of many that will have them locking their doors and looking over their shoulder in terror, waiting for the next victim to be found. The tough and beautiful Detective Jordan Sanders is assigned to the case, determined to catch the killer before more young women are murdered, but deep in the shadows, The Hunter is watching her, waiting for the perfect moment to capture her and make her his objet d'art.
When the FBI is called to Hope to assist the police, Agent Alex Hamilton is sent to bring the killer to justice. When he unexpectedly finds himself falling for Detective Sanders, he realizes that the game is on; will he catch The Hunter before The Hunter can catch Detective Sanders?
The Hideaway is available in eBook format for readers everywhere.
Mary Reason Theriot
Louisiana-native, Mary Reason Theriot has lived in various states with her husband's United States Coast Guard career. Until being diagnosed with Multiple Sclerosis in 2001, she worked in the legal field. Encouraged to write by her youngest child, she calls writing "great therapy for my own personal fight against MS." The Hideway is her debut novel.
Follow Mary Reason Theriot on Twitter @Mktheriot.
Read Mary Reason Theriot's blog at http://maryreasontheriot.me/.
View Mary Reason Theriot's YouTube channel at http://youtu.be/9g-9BeO3r9w.