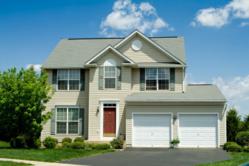 Underwater Maryland HARP borrowers are saving over $4,300 a year through the program at a rate 5 percent higher than last year's national average.
Baltimore, MD (PRWEB) May 06, 2013
HARP Mortgage Lender, a national lending network of approved mortgage professionals who work with the Obama administration's Home Affordable Refinance Program, reports that Maryland borrowers with loan-to-value (LTV) ratios over 105 percent are saving in record numbers, and that the potential for this trend, which began following provisions to HARP in late 2011, should continue for an added two years past the program's initial December 31, 2013 end date. This news comes in light of a recent announcement by the Federal Housing Finance Agency (FHFA) that HARP has been extended through December 31, 2015.
An FHFA report published April 11 shows that Maryland used 2,568 HARP loans in January 2013, and that 1,324 of these, or 52 percent, went to underwater borrowers with LTV's over 105 percent. This was a 17 percent overall improvement from the 2,119 Maryland HARP loans used in December, and also a 3 percent statewide improvement on the number of loans issued to borrowers with LTV's above 105. What's even more impressive about Maryland's use of the program for underwater borrowers is that the 52 percent number in January was 5 percent higher than the national average of 47 percent in 2012.
CLICK HERE to see if you are eligible for a HARP refinance
What it all means is that deeply underwater Maryland borrowers are taking advantage of a program that Fannie Mae recently announced was saving the average HARP consumer $83 per week, or over $4,300 a year. It's also an example of how Maryland HARP-eligible borrowers who have not refinanced can continue these massive savings trends over the next 30 months, thanks to the HARP extension.
"Borrowers who saw the value of their houses take a major hit during the recession—and consequently, their LTV's—are exactly the people that HARP was designed for," says Ryan Workman of Proficio Mortgage Ventures, LLC, a HARP lender licensed in Maryland. "From Baltimore to Rockville, Maryland borrowers seem to be more savvy to this fact than the rest of the nation, and because of this, families are not only getting back on their feet due to HARP, but they're able to move forward with their financial future in ways they never thought possible a few years ago."
A reason why Maryland underwater HARP numbers are so high is largely due to provisions the Obama administration added to HARP (known as HARP 2.0) in October 2011 that enabled borrowers with LTV's above 125 to use the program. Because of this measure, 4,901 Maryland HARP borrowers with LTV's above 125 had used the program through January of 2013. These new measures are also a major reason why the 1.1 million HARP users in 2012 was the same amount that the program had seen in its first three years combined. And as Workman notes, it's the same reason why HARP's extension through 2015 should only signal a continuance of the trend of Maryland underwater borrowers cashing in big with the country's most successful home refinancing program.
About HARP
Provisions were added to The Home Affordable Refinance Program in October, 2011 as part of an agreement involving the Federal Housing Finance Agency (FHFA), Fannie Mae, and Freddie Mac, that made it easier for mortgage lenders to give refinancing to HARP-eligible borrowers.
The Home Affordable Refinance Program (HARP) is meant to assist responsible borrowers with streamline refinancing. Borrowers who are up to date on mortgage payments but have seen their home values decline have the option of this refinancing tool.
Here are the qualifications borrowers must meet to be eligible for HARP 2.0:
1) A borrower's first mortgage loan is owned or guaranteed by Fannie Mae or Freddie Mac
2) Fannie or Freddie bought the loan before May 31, 2009.
3) Borrowers are current on their mortgage payments.
4) Borrowers owe more on their mortgage than their home is worth, or there is minimal equity.
5) All mortgage payments must have been made on time in the last 6 months.
6) No sixty (60) day late payments in the last 12 months.
Click HERE to check HARP Eligibility
HARP Mortgage Lender is a nationwide online network of pre-approved home loan professionals and lending institutions that are authorized to deal in the Obama Administration's revamped models of the Home Affordable Refinance Program (HARP 2.0 - 3.0). To talk to HARP specialist, call toll-free at 888-460-2939.