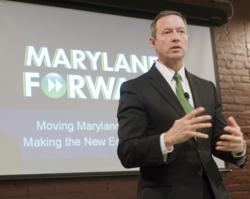 Annapolis, MD (Vocus/PRWEB) February 03, 2011
Governor Martin O'Malley today met with 80 business owners, entrepreneurs and developers at Baltimore-based DAP Products, Inc., to launch "Business in Maryland Made Easy," an economic development initiative and part of the Administration's ongoing efforts to improve the conditions that allow businesses to grow and create jobs. "Maryland Made Easy" includes specific strategies for state agencies to help improve Maryland's business environment by streamlining processes, simplifying regulations and improving communication. In making the announcement, the Governor outlined recently adopted improvements to the State Highway Administration's access permit review. He introduced members of the newly formed Maryland Small Business Commission and charged them with identifying other permitting, licensing and regulatory areas for review.
"As we transition our state into the new economy, we have to listen to the men and women on the front line of job creation on how to improve infrastructure, support our innovation economy, enhance the skills and talents of our people and improve our business environment," said Governor O'Malley. "In the past two years, we worked to unlock credit through the Maryland Small Business Credit Recovery Program and increase access to financial resources through Credit Connections. And just five weeks ago, at our first Maryland Forward forum on jobs and the economy, people told me that we needed to do a better job marketing those resources and I'm pleased announce that we've heeded the call, and today, we're releasing a new financing guide."
Joining the Governor were John McLaughlin, CEO of DAP and a member of the Maryland Economic Development Commission, Ackneil Muldrow, Small Business Commission Chair, Jay Steinmetz, CEO of Barcoding and Manuel Hidalgo, executive director of Latino Economic Development Corporation.
"One of the most effective roles my colleagues – such as secretaries Swaim-Staley and Sanchez who are here today – and I can perform is to be advocates for transparency, predictability and accountability in government," said Christian Johansson, Secretary of the Department of Business and Economic Development. With stakeholder process reviews, we're working across state agencies to identify and remove barriers to business success."
In addition to stakeholder process reviews, Maryland Made Easy includes a planned Central Business Licensing (CBL) system, an initiative of the DBED and the Department of Information Technology to create a centralized, online system for all business licenses and permits. The CBL will eventually provide businesses with a one-stop shop to complete and submit various applications and permits regardless of agency or type of business. The Governor will soon sign an Executive Order on Expedited Project Review to increase cooperation and communication in resolving cross-agency issues to facilitate major development projects and reduce delays.
Governor O'Malley also released the recommendations of the Governor's Task Force on Highway Access Permits, created to improve the process for applying and obtaining access permits for development projects. Chaired by DBED Secretary Johansson, in cooperation with MDOT Secretary Beverley K. Swaim-Staley, the Task Force included local planners, developers, engineers and economic development officials.
"We heard from the business community that we needed to make this process more timely and consistent," said Secretary Swaim-Staley. "Working with stakeholders, we found ways to do that, without compromising on our mission to provide a safe and efficient highway system."
Their recommendations are already underway and will make the permitting process more timely, transparent, consistent and predictable.
###