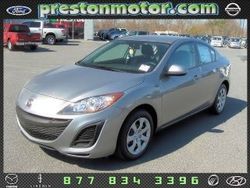 "Mazda buyers choose Mazda because of affordability, style, dependability, and safety. Younger buyers look for all these things when making a car or truck purchasing decision."
Preston, MD (PRWEB) April 9, 2010
The Mazda Motor Corporation name stems from Ahura Mazda, the highest Zoroastrian God of reason who granted wisdom and united man, nature and the other gods. This can be seen today as Mazda unites man, car, and the road. Simply put in two words, Zoom Zoom. Mazda is seen as manufacturing sporty car and small SUV vehicles meant to make driving enjoyable, fun, and stylish. Mazda recently has adopted a new design concept called Nagare which means "Flow" in Japanese. The "Flow" design has begun to be implemented in the 2010 Mazda3 and 2010 Mazda6 but will officially be shown in the new Mazda5 that is to be released later this year.
Mazda's top models they offer for sale are also attracting many young buyers according to Maryland Mazda Dealers and Delaware Mazda Dealers. Mazda dealer's top sales are on the 2010 Mazda3, 2010 Mazda6, and 2010 Mazda CX-7. Surprisingly most of these Mazda buyers range from 18- early 30s. "The average Mazda buyer is mostly a younger buyer," says David Wilson Jr. of Preston Mazda in Maryland and Delaware, "Mazda buyers choose Mazda because of affordability, style, dependability, and safety. Younger buyers look for all these things when making a car or truck purchasing decision."
Affordability is a certainty with Mazda with the 2010 Mazda3 starting below $16,000, the 2010 Mazda6 starting below $19,000, and the 2010 Mazda CX-7 starting below $21,000. Style and design over the last few years has been derived from the Mazda corporate theme has been "Zoom, Zoom". And since then, the company is delivering the motto with attractive exterior design, quality interior design, and excellent engine performance as well as handling. These three qualities really attract the younger buyers.
Mazda has also taken several steps to boost its dependability and is now a very dependable vehicle since the 1990's as the reputation of Mazda vehicles was not the best when it comes to dependability. Mazda's partnership with Ford Motor Company has also helped improve its dependability and brand image. For Mazda, improving safety performance is a cornerstone of automotive manufacturing, and the Company is working to develop and improve its technologies and equipment. We are also taking the lead in public education about safe driving to help build a safe driving society.
For more information on the Salisbury Mazda Dealer, Preston Mazda click the link
About Preston Automotive Group
Preston Automotive Group services the Delaware, Maryland, Virginia and Pennsylvania area with Ford, Lincoln, Mercury, Mazda, Suzuki, Hyundai, and Nissan brands. The auto group carries the largest selection of new and used cars and trucks. Additionally, the dealership services all makes and models, both imported and domestic cars with ASE certified and factory trained technicians.
To learn more, visit http://www.prestonmotor.com
For more information:
Brent Durham
Preston Automotive Group
Internet Marketing Manager
410.673.7171 ext. 1148
###