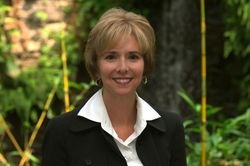 Most Powerful Women in Business Summit
Des Moines, Iowa (PRWEB) January 12, 2009
Mary Stier, former president and publisher of The Des Moines Register and senior group president of Gannett Co., Inc.'s Midwest and Sun Coast Newspaper Groups, announced today that she has launched her new consulting/speaking firm, Mary Stier Connects, (http://www.MaryStierConnects.com) a division of the Brilliance Group.
Stier will offer team/company wide workshops, individual coaching and public speaking sessions on:

Leading in Turbulent Times
5 Trends for the Next 5 Years
She Leads for Results (Focusing on how women can use their natural skills to lead)
Name, Claim and Be Your Brilliance (Inspiration journey to find your personal brilliance)
"There has never been a greater need for leadership than today. My goal is simple. I want to inspire and teach women to find their true leadership gifts and to magnify those gifts by taking their organizations through one of the most difficult economic times businesses have ever faced," said Stier.
"This is the age of women's leadership; a time when those who can build and lead effective, focused organizations are charging to the top of their field and becoming the leaders they aspire to be in every aspect of their lives," Stier added.
At Gannett, Stier led and mentored more than 7,400 newspaper employees through an evolution in the industry into a digital, multimedia environment. She initiated and led the Gannett Generation X Task Force that developed strategies to attract and retain younger readers, a program which has been modeled across the country.
As an advocate for women in her profession and her community, Stier has been recognized with numerous awards. She received the Athena Award from the Council of 100 and a Top 30 Award from the National Organization of Female Executives. She attended Fortune magazine's "Most Powerful Women in Business Summit" in 2002.
Stier began her career on-air at KRNA radio in Iowa City, Iowa. She joined Gannett at the Iowa City Press-Citizen in 1982 as the retail-advertising manager. She advanced to become publisher, one of the youngest to hold this role at Gannett. She was then promoted to president and publisher of the Rockford Register Star in Rockford, Ill. Stier returned to Iowa in 2000, to serve as president and publisher of The Des Moines Register and the senior group president of the Midwest and Sun Coast Newspaper Groups.
She oversaw the publication of 26 Midwestern and southern daily newspapers, more than 350 non-daily publications and 27 Web sites.
Stier graduated Phi Beta Kappa from the University of Iowa in 1978 with a Bachelor of Arts and received an Honorary Doctorate, Humane Letters, from Grand View College.
Stier can be reached at Mary (at) MaryStierConnects (dot) com.
# # #