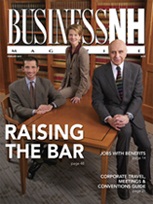 Manchester, NH (PRWEB) February 22, 2012
In February 2012, Business NH Magazine featured Raising The Bar and identified 17 lawyers practicing in different areas of the law -- all of whom had been selected by their peers in the legal community as being the best in their fields of practice. Peer-recognition is amongst the highest honor a practicing lawyer can receive.
Mary's skill in family law includes representing high-net worth clients facing the uncertainty and conflict often associated with the collapse of their family unit and the division of assets and income. Tenn has represented clients in divorce, parenting, child support and post-divorce matters. Tenn works with clients to identify goals, implement a strategic plan, and achieve results. Tenn is focused on achieving results for clients, one client at a time.
Tenn And Tenn, P.A. consistently has been recognized as a skilled, responsive, and result-oriented law firm assisting clients with divorce and family law matters. Mary practices family law with her brother and law partner, James J. Tenn, Jr., who also is an accomplished family law attorney. Both Mary and James have been recognized by Best Lawyers in America, a long-trusted peer-review publication.
Mary Elizabeth Tenn is a graduate of Harvard Law School, where she received her degree cum laude. She began her law practice in Boston. Mary returned to New Hampshire in 2000 and joined Tenn And Tenn, P.A., where she practices with her two brothers and law partners. Mary currently serves as the president of the Manchester Bar Association, and sits by appointment of the New Hampshire Supreme Court on the Board of Bar Examiners and the Professional Conduct Hearings Committee. Tenn lives in Manchester with her husband and children.
###