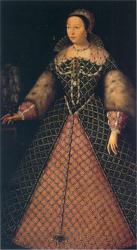 How well you dress determines how well you're paid. It's the same in any industry.
Wilmington, DE (PRWEB) September 21, 2012
Most people tend to associate "dress for success" with the books by those names from the 1970's. But if you look back through fashion history, you'll see that dressing well and financial success have gone hand-in-hand since ancient times.
So says image consultant and fashion blogger Diana Pemberton-Sikes of FashionForRealWomen.com . "The Greeks, Egyptians, and Romans all used clothing to denote wealth and status," says Pemberton-Sikes. "But the Italians perfected the 'dress to impress' technique during the Renaissance. The de' Medici family in particular new how to dress to get what they wanted. They started out in the textile industry in the 1300's, and by the 1500's, they owned the largest bank in Europe, produced four popes, two French queens, and became the Dukes of Florence. Whatever they wore was reported in detail. Everyone aspired to dress how they dressed."
Not unlike celebrities today. When the Primetime Emmy Awards air this Sunday, people will be focusing on the fashion as much as the awards. How important is it that they get it right?
"It's no coincidence that perennial Red Carpet favorites tend to get more magazine covers and endorsement deals than those who aren't," says Pemberton-Sikes. "There will always be someone trying to get on the worst dressed list because it gets them a little attention. But the ones who dress well consistently – who actually take their jobs seriously – earn more and have longer careers. It's the same in any industry. How well you dress determines how well you're paid."
What advice might the de' Medicis give for the 21 century?
"To think long term. Family dynasties aren't built in a generation, and long careers aren't build on 15 minutes of fame, regardless of the industry. Tina Fey, Julia Louis-Dreyfus, and Julianna Margulies have all been celebrated for years because they act well and dress well. They'll still be gracing red carpets and magazine covers long after everyone's forgotten about the reality stars and one-hit-wonders. Consistency counts."
The Emmy Awards broadcast is this Sunday on ABC.
Diana Pemberton-Sikes is an image consultant and fashion blogger who's helped 10,000+ women in 56 countries dress better through her ebooks and fashion blog. You can sign up for her free ezine and read her latest blog article, "Italian Fashion Secrets," at FashionForRealWomen.com/blog/Italian-Fashion-Secrets .