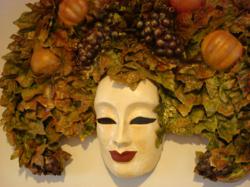 Masks have been a part of many cultures since the ancient times. We love to wear masks to celebrate Halloween and many people collect masks
Los Gatos, CA (PRWEB) October 12, 2011
Los Gatos' Gioia Italian Art and Product's featured artist is the Venetian Mask Maker and sculptor Carla Almanza-deQuant. On Oct. 23, Gioia will host a mask making class where participants will have the chance to create their own masks perfect for events, especially for Halloween.
"Masks have been a part of many cultures since the ancient times. We love to wear masks to celebrate Halloween and many people collect masks," said Kathy Winkelman of Gioia Italian Art.
Individuals now have the chance to create their own masks for Halloween parties with Carla Almanza-deQuant. She has created masks for San Jose Repertory Theatre, Santa Clara County Sister Counties Commission with Province of Florence, Italian American Heritage Foundation, Carmel Clint Eastwood Events, Left Bank Santana Row Events and more. Almanza-deQuant is also a recipient of the 2006 Home Town Video Award in Visual Arts for the Best Art Documentary in the United States filmed by Darlene Carmen. Now, she is sharing her expertise with everyone by teaching the techniques of mask making such as painting, decoupage, metal leafing, filigree and antique patinas.
For those who want to spend a day experiencing the Venetian tradition of 16th and 17th Century mask making, Gioia's five-hour mask making class is available for $125 with all materials and lunch included.
For more information about Gioia Italian Art and Products, and to registers for the Halloween classes, please call 408-640-6628, email at emailgioiacustomerservice(at)yahoo(dot)com or visit their website at http://www.gioiacompany.com.
About Gioia Italian Art
Los Gatos fine art galleries, Gioia Company works directly with dedicated Italian Artisans to provide the finest Italian gifts in the Italian Tradition. These Italian Heritage Art pieces make unique gifts for any occasion. The Gioia shopping experience is available at select Italian Festivals, wineries, fine art galleries and online. Each piece is professionally wrapped and carefully shipped to you or any destination that you choose.
###