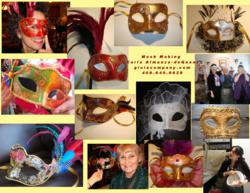 We support a new generation of Italian artisans, both in Italy and the United States, to maintain an interest in gifts from Italy and fine art handcrafted by these artisans, keeping centuries-old traditions available to our clients
Los Gatos, CA (PRWEB) December 24, 2011
Los Gatos'Gioia Company, a handcrafted Italian art and home décor establishment in the Bay Area, will host Venetian mask-making workshops throughout January and February in anticipation of Mardi Gras celebrations throughout the world.
"We support a new generation of Italian artisans, both in Italy and the United States, to maintain an interest in gifts from Italy and fine art handcrafted by these artisans, keeping centuries-old traditions available to our clients," co-founder Kathy Winkelman of Gioia Company said.
The Venetian mask-making workshops will last 4 to 5 hours and may be held in any setting convenient to participants, who must consist of at least five people. Participants will be introduced to five Venetian mask-making techniques: painting, decoupage, metal leafing, patinas and filigree scrolling. In light of the upcoming Mardi Gras festivities, the cost of the course is discounted from $125 to $95 when mentioning the San Francisco Gate News upon registration.
Carla Almanza-deQuant, an artist affiliated with the Gioia Company, will lead the workshops. Almanza-deQuant is an accomplished sculptor and Venetian mask maker trained in Florence, Italy. She is knowledgeable in the Italian language and ancient Italian Renaissance art.
Mardi Gras season, alternatively known as the Carnevale or Carnival season, is celebrated throughout the world beginning on or sometime after the Epiphany and culminating on Shrove Tuesday or Fat Tuesday. Partakers of the festivities wear ornate masks and costumes, dance, conduct sports competitions, and hold parades to celebrate. In Venice, the Carnevale capital of the world, Mardi Gras season will be occurring in January and February. The Pacific Art League in Palo Alto is hosting a Masquerade Ball on Feb. 11, and the Sister Counties Commission with the Province of Tuscany, presents in sharing, the Medici masked benefit ball on May 5.
Gioia Company reminds everyone to mark their calendars for Mardi Gras and be ready to join the festivities with Venetian masks. They may also view a video of mask making on the Gioia Company's website.
For more information on the workshop or the Gioia Company, call 408-640-6628, view the company on the web at http://www.gioiacompany.com or visit 16395 Roseleaf Court, Los Gatos, CA 95032.
About the Gioia Company
Kathy Winkelman and Lee Marie Michals founded the Gioia Company in 2006. The company is rooted in the sound tradition of Old World hospitality, fine arts and time-honored craftsmanship. "Gioia" is "joy" in Italian, something that both Winkelman and Michals seek to share through rare Italian gifts of handcrafted ceramics, masks and other Italian arts. Art enthusiasts are welcome to browse Gioia Company's collections anytime.
# # #