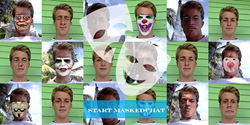 Besides a random chat that will connect you with random online users, you can also create and share a private channel to chat with your existing friends
Miami, FL (PRWEB) April 09, 2015
MaskedChat, a new ChatRoulette that allows people to wear a mask, was just released by the startup incubator MyHeadquarter.com.
Thanks to the new ChatRoulette alternative, people no longer have to be camera shy; they can now meet strangers on their computer or mobile phone while wearing a digital mask, which allows them to look like their favorite idol or they can make a custom mask by uploading a picture.
As a spokesperson for the tech incubator MyHeadquarter.com noted, MaskedChat lets people mask their voice and arrange for a fake ambient sound to appear somewhere the person is not. When a user is ready and his or her new acquaintance is too, the mask can be taken off and a live video starts that allows for card tricks, dances and other forms of entertainment that predecessor ChatRoulette became initially famous for.
"Besides a random chat that will connect you with random online users, you can also create and share a private channel to chat with your existing friends," the company spokesperson for the startup incubator said.
In addition to being a fun feature, the face recognition also aims to prevent nudity, which is a major problem with other similar applications. This is because people cannot participate in the chat if their face is not in the video, assuring the content is of greater quality. Nevertheless, when the masks are taken off facial recognition stops and so does this requirement. The creators emphasize, however, that they aim for youngsters around to world to make new friends and entertain each other. For that reason users can build a list of favorites (friend list) and filter the demographics of their opponents.
About MaskedChat:
MaskedChat was developed my MyHeadquarter.com, a privately funded incubator for online startups. With this project they became amongst the pioneers in browser based Facial Recognition and WebRTC, two highly advanced technologies. They are fond of the latest node.js technology stack to build 1-page apps, social networks and services. Great ideas and angel investors are invited to get in touch via their website (http://myheadquarter.com/#contact) Follow them via twitter or Facebook (@MyHeadquarter) to hear the latest. To try the MaskedChat, please visit app.maskedchat.com.