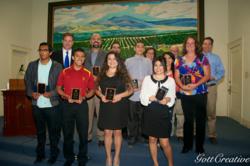 It was inspiring to hear the various situations, life stories. I'm so proud of these kids
Orange, California (PRWEB) May 03, 2013
The Orange Grove Masonic Lodge partnered with Broadview Mortgage this year to offer 10 students a $500 scholarship.
Chris Apodaca, Assistant Director of Branch Development for Broadview Mortgage, was in attendance to present the check on behalf of the bank. "We are so happy to be here today to honor these students and teachers, it is truly a noble cause. We look forward to our continued partnership with Orange Unified School District's schools and Orange Grove Lodge," said Apodaca.
The event consisted of a buffet style dinner followed by the presentation of awards. Each student had a biography read aloud to those in attendance, a few stories drew tears from family and friends.
Criteria to receive the award was based on a student's resilience and perseverance. Each student had to overcome life changing circumstances in order to be considered. The stories ranged from a change in lifestyle to outright tragedy. "It was inspiring to hear the various situations, life stories. I'm so proud of these kids," said Ed Howard, Principal of Villa Park High School.
The auditorium was filled with 120 people that consisted of family, friends, and Masons from Orange Grove Lodge.