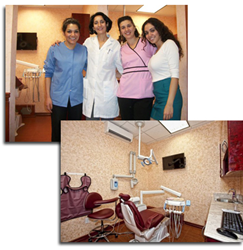 It is not so much about winning the contest as it is about appreciating those that have made a difference in our lives
Maspeth, NY (PRWEB) June 13, 2014
As part of this year's July 4th celebrations, Alexandra Khaimov, a Maspeth NY dentist, is encouraging the members of her community to share the untold stories of their everyday heroes in her "Nominate a Hero" story contest.
"This year's July 4th holiday is the perfect opportunity for New Yorkers to recognize those everyday heroes among us that have made an impact in our lives," said Dr. Khaimov.
"I would describe our everyday heroes as those ordinary people among us that have done extraordinary acts of kindness to make a difference in someone's life," she explained.
To nominate someone, a participant can visit Dr. Khaimov's website http://www.DentistMaspethNY.com, and share the story of the person he or she believes is an everyday hero.
Nominees can include family members, friends, neighbors or co-workers, as long as they have helped an individual or a group of people in a significant way. Dr. Khaimov is offering a free dental kit to participants that nominate their local heroes.
All the "Nominate a Hero" stories will be posted on the website, and visitors can read and vote for their favorite. Nominations and voting are set to end by July 4th, when the winner will be announced.
The nominee with the highest number of votes will also receive a gift certificate from Dr. Khaimov for dental services worth $500. The first and second runners up will also receive gift certificates worth $300 and $200 dollars respectively.
"It is not so much about winning the contest as it is about appreciating those that have made a difference in our lives," said Dr. Khaimov.
"Every story that is shared will let our local heroes know that they are appreciated, and that is the most important thing," she added.
The Maspeth dentist is passionate about giving back to the community, and has organized several community events and activities since opening her dental practice, including food drives and free dental service days.
Last month, Dr. Khaimov, dentist Maspeth, was actively involved in the "Donate Life Month", during which she mobilized local residents to become registered organ donors. She also organized a local food drive to help the less fortunate members of the community.
"There are families in New York that cannot afford 3 square meals every day, and if putting some food in their stomach will help them get through another day, then that's exactly what we need to do," she said.
Dr. Khaimov is also dedicated to providing high quality dental care to her community, including those who cannot afford it. During the free dental service days she organizes, locals receive free emergency dental services that they would not afford otherwise.
The Maspeth dentist proudly serves the residents of Woodside, Middle Village, Woodside and Maspeth, as well as other surrounding cities.
Details of the "Nominate a Hero" contest and other community events can be found on her website: http://www.DentistMaspethNY.com.