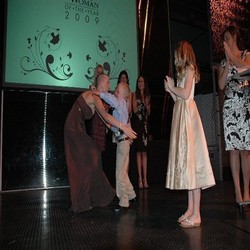 HELP! I am not just turning 30...I am turning 30-30-30!
Santa Monica, CA (PRWEB) February 11, 2011
Moved by the courage of a six-year old boy's fight with Leukemia, Jennifer Hill of Santa Monica is putting her social marketing skills to the test in quest to raise $30,000 in the the 30 days leading up to her 30th birthday on March 1 to be donated to the Leukemia and Lymphoma Society.  
Two years ago, Jennifer shaved her head in honor of an inspiring little boy named Tyler Cordova. Tyler was 6 at the time Jennifer met him and he had spent 5 of those 6 years of his life battling Lymphoma. When Jennifer first met Tyler she was immediately touched by his exuberance for life despite what he had endured. Jennifer devoted herself to raising close to $20,000 in 2009, part of which was generated in a "Bald for the Brave" event where Tyler shaved Jennifer's head at a concert she produced to benefit the Leukemia & Lymphoma Society (LLS). To see the video of the head-shaving event you can go to:
 
http://www.youtube.com/watch?v=Ly5QkI4idGM
Now, 2 years later, she is at it again. This time her goal is to utilize her 3,000+ social media contacts on Facebook, Linkedin and Twitter to raise $30,000 in the 30 days leading up to her 30th birthday, culminating in a Masquer-AID Ball for charity being sponsored by Patron. Jennifer has already begun leveraging her contacts and has generated close to $4000 in her first 8 days of fund-raising, in addition, she has secured a $2500 corporate sponsorship from G-Technology, a Culver City based technology company. Jennifer's goal is to utilize both traditional media and social media to get her message out there.
 
Using Linkedin, she received her first $100 donation from a complete stranger in Virginia who lost his mother to Leukemia a few years earlier. On Monday, February 7th, Jennifer asked her social media network connections to give up their normal cup of Starbucks for one day (calling the event a CUP for a CURE) and to instead donate the $3-5 they would spend on coffee towards LLS. By doing this she raised an additional $500+ dollars towards her goal. This is just one of the many things Jennifer has been doing and will continue to do to generate awareness for LLS and to get herself one step closer to raising $30,000.
 
To hear from Jennifer why she is doing this, please watch this video:
 
http://www.youtube.com/watch?v=Gqv3MV5A3A8&feature=autofb
 
The Masquer-AID Ball to benefit the Leukemia & Lymphoma Society will be held at famous Magician, Brian Gillis' Redondo Beach Castle on Saturday March 5th and will start at 7pm. For more information on how to donate please go to: http://los.lls.llsevent.org/jenhill
Contact: Jennifer Hill
Telephone: 760-641-3477
# # #