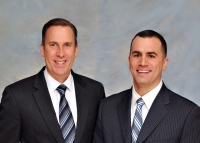 We knew by the beginning of March that this was going to be a strong selling season
Waltham, MA (PRWEB) May 29, 2012
Home sales in Massachusetts and New Hampshire increased for the fourth consecutive month according to data compiled by McGeough Lamacchia Realty. Overall Massachusetts home sales increased 18.88 percent and New Hampshire home sales increased 27.07 percent.
John McGeough and Anthony Lamacchia, co brokers and owners of McGeough Lamacchia Realty, believe this is a sign the housing market is improving.
"We knew by the beginning of March that this was going to be a strong selling season," says Anthony Lamacchia.
The increase in sales was true for single-family homes, condos, and multi-family properties. The number of single-family homes sold in Massachusetts increased 22 percent in April 2012 compared to April 2011. In New Hampshire, single-family home sales increased 29 percent for the same time period. Condo sales rose 12.57 percent in Massachusetts; in New Hampshire, condo sales rose 28.40 percent.
This increase in the number of homes sold is happening across the country, indicating an improvement in the housing market. A news release from the National Association of Realtors (NAR) on May 22 said existing home sales in April increased 3.4 percent from March, and are 10.0 percent higher compared to April 2011.
McGeough Lamacchia Realty cites several key factors in the rise in home sales:
The low unemployment rate and job growth numbers have added to home buyer confidence. This month the Executive Office of Labor and Workforce Development reported that Massachusetts added 2,500 jobs in April and the unemployment rate dropped to 6.3 percent. In New Hampshire, the unemployment rate is even lower, at 5 percent.
Record low mortgage rates are also driving more home buyers.
"The average 30 year fixed rate has hovered around 3.82 percent for the past year," says John McGeough, "which can mean huge savings over the life of a loan compared to the rates only a couple of years ago."
McGeough Lamacchia Realty also points to high rents relative to low monthly mortgage payments as a factor in the increase in home sales. Low vacancy rates and more renters have caused average monthly rents to spike in the area. Home buyers are finding that owning a home is more affordable in many cases than renting an apartment. This demand for rental properties has also driven sales as more investors are buying property to rent out.
April average home prices show signs of stabilizing as well. NAR reports the national median existing-home price for all housing types rose 10.1 percent to $177,400 in April from a year ago. The average selling price for all home types in Massachusetts is $332,654, an increase of .67 percent over last April, due in part to a large increase in the sale prices for condos. In New Hampshire, single family properties prices saw the biggest increase and sold for an average of $235,548, 5.9 percent higher than last April.
McGeough Lamacchia Realty expects this trend in higher home sales and price stabilization to continue through the rest of the year.
About McGeough Lamacchia Realty:
McGeough Lamacchia Realty is the number one Real Estate Agency in Massachusetts and named one of the Top 100 Real Estate Teams by the Wall Street Journal in 2010. They are a full service real estate agency specializing in assisting home buyers and sellers in Massachusetts and New Hampshire.
For more information, visit the New England Real Estate Blog