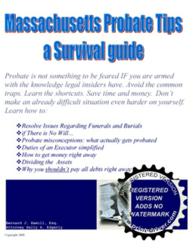 Probate is not something to be feared if you are armed with the knowledge legal insiders have. Avoid the common traps. Learn the shortcuts. Save time and money. Don't make an already difficult situation even more stressful.
Boston, Massachusetts (PRWEB) October 01, 2011
Attorney Bernard J. Hamill of the Hamill Law firm has published a free guide for Massachusetts probate. The probate guide, in PDF format and obtainable at the Massachusetts wills website, was written exclusively for Massachusetts consumers having questions about the probate administration process,
The guide offers answers on topics that include:

How to resolve issues regarding funerals and burials
What if there is no will…
Probate misconceptions: what actually gets probated? The answer may be surprising.
Explains the duties of an executor simplified
How to access estate money immediately
Distributing the assets
Why not to pay all debts right away
Why isn't the house passing through my will?
Learn the secrets to filing an estate without undue expense and delay. For example, this probate guide will tell why the estate debts should not be paid right after death. Learn how to hire a law firm with little or no up front cost.
This free probate guide was written to help Massachusetts consumers save money and eliminate worry at a time of need. This probate guide is tailored specifically to Massachusetts law. It was written by Massachusetts lawyers with years of experience. It is based on proven shortcuts and techniques honed from years of experience with the probate courts.
The Hamill Law firm has been probating estates for clients in Massachusetts for over three decades. There is a proven track record of resolving the most difficult cases.
Choosing the right law firm does make a difference. In some cases no retainer is required until an executor is appointed and has access to estate funds.
The Hamill Firm encourages all residents filing Massachusetts probate estates to take advantage of this free offer available by visiting the firm website or by clicking here: Massachusetts probate guide.
# # #