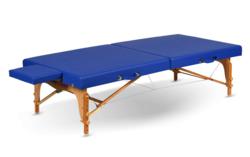 We wanted to showcase some of our products that we thought customers would be interested in based on the items they were browsing
Chicago, Illinois (PRWEB) September 10, 2012
Now you can have a sort of a personal wellness-product consultant when you shop at BestMassage. When you select a certain item, like a portable massage table for instance, a group of related items in the form of recommendations will appear toward the bottom of the page. Peter Wang, Marketing Director and Barett Hedeen, Sales Consultant for BestMassage collaborated on the idea.
"We wanted to showcase some of our products that we thought customers would be interested in based on the items they were browsing," revealed Wang.
The idea can be very profitable, as exhibited by amazon.com, the online retailing giant. Amazon is often cited as the leader of recommendations with its complex algorithm that suggests purchases to customers based on their browsing history and past purchases. Many customers respond and purchase those recommended products and Amazon enjoys the profits.
BestMassage's recommendation strategy is not as involved as Amazon's nor does it not rely on an algorithm to work. In fact, Hedeen, who has extensive knowledge of BestMassage's massage tables and massage supplies, handpicks the suggestions.
"I choose products that I feel would work well with the particular massage table or massage supplies. When customers select a particular product, the recommendations are there for them to consider," said Hedeen.
The recommendations are currently available for all of the portable massage tables, and by the end of the month they will be offered for every product. Hedeen and Wang decided to limit the recommended products to four for each item. The popular Eco BodyChoice massage table, for example, has these four recommendations: a rolling massage stool, grape seed massage oil, a three-piece flannel sheet set, and bolsters. The items appear as links that will allow the customer to view the products and ultimately buy them.
"We hope we help customers with our suggestions. Sometimes our customers do not know that we sell certain products they may be interested in and this is a way to show them that we do," says Wang. "We are looking forward to seeing our sales increase as well."
About BestMassage
BestMassage is proud to be a BBB (Better Business Bureau) accredited organization with a BBB Rating of A+. Having over 10 years of experience and knowledge behind us, we are committed to offering massage therapists and those who care about health and well-being a complete line of high-quality massage supplies and products at the best prices possible with exceptional, friendly service, and fast shipment. Detailed information on the company can be obtained by visiting http://www.bestmassage.com