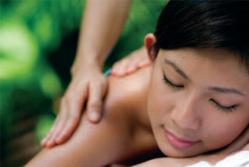 With You4ia!, World School students and alumni will have a unique opportunity to explore the
power of the group mind to speed attraction for the individual
San Francisco, CA (PRWEB) January 10, 2012
Bay Area Massage Therapy School, The World School of Massage and Holistic Healing Arts announces a new partnership with You4ia!, a new breed of "law of attraction" training and "co-creation" community.
"We're excited to give our students, alumni and the general public access to this revolutionary online training and social co-creation environment," says Patricia Cramer, World School Founder. "Our faculty and students have worked closely with You4ia!'s founders, David and Jim Ross, for eight years to design a community that represents the leading edge of holistic law of attraction training and practice."
"Law of attraction" and "co-creation" are terms used to describe a set of principles and practices held in common between the subjects known as the power of the mind, the placebo effect, faith, positive thinking, positive psychology, intention and prayer. Arguably the most influential book in the human potential movement in the 20th Century, "Think and Grow Rich," by Napoleon Hill (over 60 million copies sold) addresses this subject by describing a universal theory of how these ancient human principles work. In more recent years, law of attraction has been the source of growing popular interest following the release of the movie, "The Secret," produced by Rhonda Byrne and books such as "The Intention Experiment," by Lynn McTaggart.
"We're thrilled that entire bodies of scientific literature now exist, especially in the field of quantum physics and medicine, that have helped us better understand the mechanics of how the mind can actually affect it's environment (not simply perception of reality)," says You4ia! co-founder, David Ross.
"We're equally gratified that science is beginning to explore new theories of how the group mind can enhance attraction affects as well," says Ross. "We're hopeful that You4ia! will help us understand this exciting topic too."
"With You4ia!, World School students and alumni will have a unique opportunity to explore the power of the group mind to speed attraction for the individual," states Ms. Cramer of World School. Ross shares that without the World School, this project would not have been possible.
"The World School participated in an eight-year research project to explore how aspects of the law of attraction work and how best to teach the subject. Without the efforts of the faculty and students You4ia! simply would not exist today."
Ms. Cramer reports that another advantage for World School students and alumni is that You4ia! has been designed to be the ideal practice and application environment for students who have attended any of our courses in our law of attraction/creation series including "The Creation Course," "Your Power to Create," "Emotions and Optimum Health," "The Mindful and Stress-Free Lifestyle," "Holistic Wealth Creation," and more.
The World School of Massage and Holistic Healing Arts (with three schools in the San Francisco Bay Area), provides programs in massage therapy, energy massage, holistic health, personal development, entrepreneurship as well as health and life coaching. The World School produces an introductory public course in law of attraction, called The Creation Course. For a limited-time, the World School is providing this course to the public (794 tuition) at no charge.
For inquiries, please contact Katie Phillips at 415-221-2533.
http://www.worldschoolmassage.com.
You4ia!, and it's sponsoring organization, The Creator Network, provide social co-creation and law of attraction tools and training to support exploration of the power of the mind to create and attract reality. You4ia! offers a free, law of attraction success video series for new members as well as teleconferencing training on a paid membership basis. For inquiries, please call 408-445-1983 or visit http://www.you4ia.com.
About World School of Massage and Holistic Healing Arts
The World School of Massage and Holistic Healing Arts, with three locations in the San Francisco Bay Area: San Francisco, Pleasanton, and Corte Madera (Marin) California, is one of the oldest and most respected holistic health, life coaching and massage schools in the world. For nearly 30 years, thousands of exceptional students from over 30 countries have chosen their massage therapy schools and holistic health and life coaching certification training because they recognize the enormous career advantages provided by a balanced holistic education: massage therapy, personal development, health and life coaching, yoga teacher training and personal business success.
###