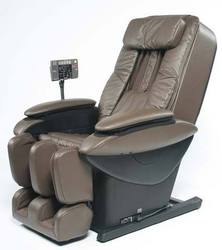 This new technology goes way beyond what people expect from an robotic massage chair. Advanced body scan creates a virtual map of each individual user's pressure points, and the new grasping motion of the rollers makes this the most human-like chair ever created
Encinitas, CA (PRWEB) September 19, 2007
Panasonic recently unveiled the long awaited EP30005 massage chair, which provides the deepest tissue massage available. Panasonic, which has lead the massage chair industry for 35 years, uses a sophisticated series of computerized roller mechanisms just below the surface of the chair.
The chair can contour itself around the neck, legs, and arms of the user, then give a variety of 15 and 5 minute messages that rival care provided by some of the world's most renowned human massage experts.
The Panasonic EP30005 is exclusively distributed by http://whttp://www.PanasonicMassageChairs.com. The site includes an online Panasonic Massage Chair video that demonstrates how the chair works to provide on-command full body massages tailored to the user's preferences, as well as information about other Panasonic Massage Chairs.
"This new technology goes way beyond what people expect from an robotic massage chair. Advanced body scan creates a virtual map of each individual user's pressure points, and the new grasping motion of the rollers makes this the most human-like chair ever created," said Sam Kakitani of PanasonicMassageChairs.com.
The EP30005 features a mind-boggling 1,117 massage modes, giving the chair the kind of range only expert human massage experts have possessed in the past. The chair scans the body of the user, then provides a highly customized arm massage, seat massage, and foot massage along with others. Preferences can be saved among four separate users with each user able to store multiple massage regimens.
The chair has been designed and programmed to provide several of the world's most popular massage styles including Swedish, and Shiatsu, and the all new Junetsu massage function, never before available on any massage chair.
The EP30005 Real Pro Ultra Massage Chair has been recognized for its innovation, winning an endorsement from the American Chiropractic Association. "This remarkable deep tissue massage can improve circulation, lower blood pressure, and improve the immune system -- not to mention the way the chair takes the stress out of a busy day and improves your outlook on life," Kakitani said.
The chair's ability to provide the deepest tissue massage in the industry has to do with the adjustable depth massage heads extending into the user's back. An electronic intensity adjustment allows the massage heads to automatically extend farther to deliver stronger or more gentle massage pressure, depending on the user's preference.
"Users can choose between three levels of intensity, from soft to strong. This is an entirely new direction for massage chairs. In the past, intensity adjustments did not control the actual depth the massage rollers extended toward the back," Kakitani said. The Panasonic EP30005 Massage Chair is available for purchase at http://www.panasonicmassagechairs.com or by calling 1-800-976-2914.
###