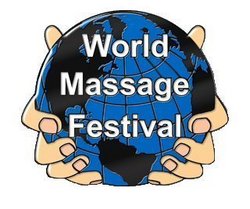 "The World Massage Festival is one of the best organized conventions in the country. In addition to honoring the great leaders and pioneers in our industry, this convention gives therapists an opportunity to get cutting edge education." -- James Waslaski
Roaring River, NC (PRWEB) December 30, 2009
The World Massage Festival and Massage Therapy Hall of Fame is not your usual "massage convention". Open to therapists, instructors and the general public, the Festival offers affordable, world class, hands-on continuing education.
Workshop registration, 4 days of lodging and meals, the Massage Symposium, Trade Show, Hall of Fame Ceremony and Reception are all part of a busy weekend of special activities at a cost of only $492, about one-half the price of attendance at a standard industry convention. This is the best deal in the country.
ESALEN® COMES TO THE EAST COAST. Brita Ostrom of the Esalen® Institute and Robin Fann-Costanzo will offer 23 hours of Esalen® training and Keynote speaker Paul St. John will be teaching Aquasomatic Therapy for the first time at a conference. James Waslaski, Laura Allen, Claire Marie Miller, Ruthie Piper Hardee, Terry Norman, Tina Allen, Sudevi and Vivian Madison-Mahoney are among the distinguished instructors offering workshops ranging from using Social Networking in your practice to Thai Yoga Bodywork Training and Chinese Medical Massage during the 3-day education portion of the Festival.
While honoring the Bridge Builders of the profession, the Massage Therapy Hall of Fame in 2010 will recognize the Pioneers of Massage, launch the First Annual Charlotte Hooten Memorial Scholarship and pay special tribute during the Closing Ceremonies to the late Aunty Margaret Machado, who chose to share Lomi Lomi with the world from the 1940's to her passing in December, 2009.
Massage Warehouse and Angie Patrick oversee the creation of "Sanctuary", an area that provides spa treatments for donations. Participants visit the working spa set up on the trade show floor, and for a donation of $10, they can receive one of six protocols designed for the feet as well as the face. All donations will be given to the Shriner Children's Hospital.
The World Massage Festival is also a job fair for those considering massage therapy as a profession and a showcase for the community at large to see various types of massage therapy. It is an opportunity for therapists to network with and learn from other therapists, massage business suppliers, schools and professional associations.
###