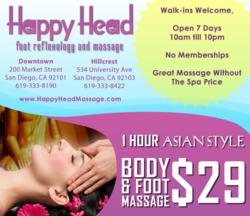 I'm so glad that the Happy Head has come to my neighborhood
San Diego, CA (PRWEB) January 23, 2013
Happy Head Massage is known for its exceptional value by offering a great massage without the spa prices. Local residents love going to Happy Head Massage. Alex, a customer at Happy Head says "I'm so glad that the Happy Head has come to my neighborhood. Now I can get a great massage at affordable prices without having to sign memberships or contracts." Happy Head Massage is changing the way people get massage in San Diego and throughout California.
Ever since opening their first massage center in the Hillcrest area of San Diego, The Happy Head Massage has been non-stop busy performing thousands of massages for San Diego residents and visitors. Happy Head Foot Reflexology and Massage opened their first location in 2011 and has been branching out to additional locations ever since. Their website at http://www.HappyHeadMassage.com offers informative content about The Happy Head and massage therapy in general.
What makes Happy Head Massage so unique is that they offer the affordability of Asian style reflexology massages but in an upscale, clean, professional environment. The minute a customer steps foot into any Happy Head location they quickly realize that they are going to experience a massage like no other. From the upscale design, to the unbelievable massage therapy techniques, the Happy Head is now the premier choice when getting a massage in San Diego. The Happy Head is quickly taking the massage therapy world to the highest level.
Happy Head Foot Reflexology and Massage is not just about Asian style foot massage and body massage. In addition to their one hour Asian style foot massage for only $29, they also offer Swedish full body massage, deep tissue massage, couples' massage, Thai massage, and also four hand massage where two massage therapists work on the client at the same time. Their most famous massage is the 90 minute Asian fusion combo massage. This type of massage combines Asian style foot massage, deep tissue massage, and Thai massage into a 90 minute session. It's great for the person who wants to enjoy all the benefits of the different types of massages in one session.
Happy Head Massage utilizes some of the best therapists available in the massage industry. All the therapists are licensed massage therapists and they must have several years of experience before working at the Happy Head. The massage therapists have hundreds if not thousands of hours performing both Eastern and Western style massage. The Happy Head takes quality control very seriously and regularly tests and trains the massage therapists to ensure that the customer has a great experience. To get this kind of service you'd have to spend three times as much elsewhere.
Happy Head Massage has great ratings along different review websites. A yelp reviewer named Mark sums up his experience as follows: "Wow! I have had a lot of massages around the world and the problem with Asian massages is you never know what you will get. Happy Head has solved this problem. They have top-notch masseuses, clean, comfortable relaxing environment, and great value." A Google user named Danielle had the following to say: "I love this place! The facility is clean and very relaxing. The therapists are fantastic! The front desk staff is very friendly. The best part is the prices. You can get the fancy spa experience without having to break the bank."
Happy Head Massage gives their clients the freedom to choose their service. They don't lock you into long-term memberships like some other massage establishments. They don't charge you every single month whether you receive a massage or not. They don't make you sign a contract in order to receive a lower rate. They give a great price, every time, all the time. There are no hassles and no gimmicks. They know that their customers will enjoy their experience so much that they will come back again and again. The starting price for a great Chinese foot reflexology massage is only $29. There are other massages available as well.
Happy Head Foot Reflexology and Massage's next location in Pacific Beach will be located at 953 Garnet Avenue, San Diego, CA 92109. The anticipated opening date for the massage center in Pacific Beach is March 2013. Their phone number for massage in Pacific Beach is 619-333-0074. To get the latest news from the Happy Head visit their blog page at http://www.HappyHeadMassage.com/news and they can also be followed on Facebook and Twitter as well.