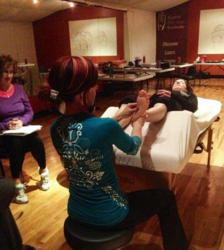 Seats fill quickly because our students understand the value of what we offer.
Aspen, Colorado (PRWEB) May 30, 2013
The Aspen Massage Institute (AMI) has published their course schedule for their next Certified Massage Training Program. Commencing on September 16, 2013 and concluding May 8, 2014, the 500 hour program prepares students for a career in massage therapy and makes them eligible to take the National Certification Exam or the Massage and Bodywork Licensing Exam. "The health benefits of massage therapy are well known, and demand for strong, all-encompassing certification programs continues to grow," commented Jean-Robert Barbette, School Director, AMI.
AMI focuses on providing the highest level technical training as well as preparing students to be successful in their own career. "We have limited class sizes to give the most interactive and best training possible. Seats fill quickly because our students understand the value of what we offer," added Jean-Robert. The 91 hour Clinical Internship allows students to practice techniques in one of Aspen's premiere spas and learn valuable skills in marketing, finances and customer service. Students also receive career counseling enabling them to solidify professional goals so they are better prepared upon graduation.
Courses are structured to meet the needs of all students regardless of background or time constraints. In addition, all students receive a one year membership at the prestigious Jean-Robert Gym and a 5% discount on all AVEDA products. "Our program is focused on health. The best way to help our students realize the benefits of a healthy lifestyle, is giving them the opportunity to have a membership at one of the most state-of-the-art facilities in Aspen," stated Bernadette Lofton, Admissions, AMI. Classes are conveniently offered in the mornings from 9:00 am - 12:30 pm. This provides an opportunity to incoming students with restaurant or service jobs, and families with children in school, to enter a career in massage therapy.
About Aspen Massage Institute
Aspen Massage Institute (AMI) is the premiere Massage Certification Training Center in the Colorado Rockies. Located in beautiful Aspen, CO, AMI offers an innovative approach to education and student development. As members of the American Massage Therapy Association (AMTA) and Associated Bodywork and Massage Professionals (ABMP), AMI is dedicated to exceeding professional standards and meeting the needs of their students. AMI holds a certificate of approval by the Colorado Department of Higher Education, Division of Private Occupation of Schools.
To learn more about the Aspen Massage Institute please visit: http://www.aspenmassageinstitute.com