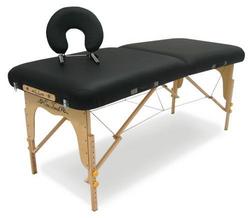 true best of class professional table
Plymouth, Minnesota (PRWEB) July 14, 2009
OneTouch Massage has announced the release of the brand new Aspire Series Portable Massage Table with memory foam. According to sales and marketing manager John Ostman, the Aspire is a "true best of class professional table" designed to include the top features in the massage table industry.
These features include Canadian maple legs, a full-length piano hinge, and multi-density foam padding. In quest of a massage table that exceeds the industry standard, Ostman says, "We took all those professional features and put them into the table and then added the memory foam top"--a luxury comfort that few massage table manufacturers offer today.
With the needs of professional therapists in mind, OneTouch Massage sought to design and manufacture a massage table that is easy on the environment and durable enough to withstand heavy use over the course of a therapist's career. OneTouch Massage believes that creating durable products with a long working life means less waste for our world.
The legs and braces of the Aspire Massage Table are constructed with sustainably-farmed maple hardwood, and the ultra-soft upholstery is made from earth-friendly polyurethane material. The multi-layer foam padding includes a high density layer topped with plush memory foam. The full-length piano hinge ensures a stable frame that will hold firm under the pressures of vigorous massage techniques and larger clients.
At 30 inches wide, this table is the ideal width for most therapists, allowing ergonomic body posture and easy access to the client. A premium carry case, aluminum face cradle, and forward arm rest are included in this massage table package. The Aspire Massage Table also comes with a 5 year warranty.
About OneTouch Massage
OneTouch Massage is an innovative leader in today's massage table industry, providing quality massage tables and accessories for the professional therapist and home user at affordable, factory direct prices. For more information about OneTouch Massage, visit them on the Web at http://www.1massagestore.com.
# # #