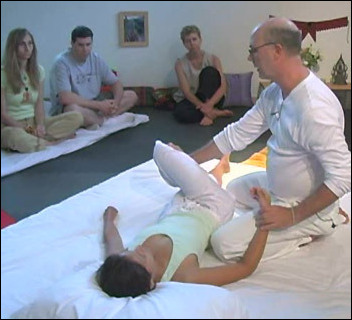 With its strong fundamentals and emphasis upon body mechanics, Thai yoga massage can help practitioners rejuvenate and extend their careers for decades in a safe and sustainable way
Evanston, IL (PRWEB) December 6, 2006
Western massage practitioners can prevent work-related injuries and extend their careers by learning Thai massage with a new DVD by internationally recognized expert Chuck Duff, CTI, CTT.
Thai Massage: An Introduction for the Mat and Table with Chuck Duff (100 minutes, $49.95 SRP) presents an instructive and accessible entry point to techniques that for more than 2,500 years have provided profound benefits, including relief of pain from arthritis, repetitive stress and overworked muscles.
"With its strong fundamentals and emphasis upon body mechanics, Thai yoga massage can help practitioners rejuvenate and extend their careers for decades in a safe and sustainable way," says Duff.
Western massage therapists experience symptoms of occupational disability in their hands, arms and shoulders that affect their abilities to work effectively. A recent survey by Associated Bodywork & Massage Professionals, an association serving the massage therapy and bodywork profession, revealed that more than 75% of massage therapists reported significant work-related pain symptoms within the last two years.
"Many of these practitioners are now investigating the benefits of learning Thai massage therapy in their efforts to work more years, and without symptoms of occupational disability," says Duff.
Filmed in his Evanston, IL, teaching studio - and incorporating footage from his recent visit to Thailand -- Duff taps his background in yoga, martial arts and therapeutic bodywork to convey the fun and kinesthetic nature of Thai yoga massage. Viewers will learn how to:
· Balance the body's energy pathways
· Provide an emotionally calming and deeply relaxing experience for clients, while maintaining a safe and sustainable practice
· Move in an efficient, elegant and powerful way while avoiding reliance on muscular strength (a common cause of therapists' work-related injuries)
Also included is an introduction to Duff's innovative HandsFree Thai, Luk Pra Kob herbal compress treatments, as well an overview of Clinical Thai Bodywork - "one of the most efficient and effective approaches available for orthopedic rehab, relief of chronic and acute pain, recovery from injury, and correction of myofascially derived dysfunction," he says.
Thai Massage: An Introduction for the Mat and Table is available from Amazon and The Thai Bodywork Web Store.
About Thai Massage
Emerging from a strongly Buddhist tradition, Thai massage is a practical expression of Metta, compassion toward oneself and others. Performed on a mat in comfortable clothes, this "lazy man's yoga" creates a therapeutic "dance" incorporating rhythmic motion, invigorating stretches, palming and thumbing along energy lines to invoke emotional calming and deep relaxation.
About Chuck Duff
Chuck Duff is a Certified Thai massage instructor, with an approach that emphasizes using the innate energies of the body to provide healing in a safe and sustainable way. His Thai Bodywork School of Thai Massage, which he founded in 2001, offers more than 250 hours of Thai massage certification trainings, and has emerged as one of the leading programs in the United States. A lifelong yoga enthusiast and martial artist, he has a B.A. in Religion and the Humanities from the University of Chicago, focused on Buddhist Studies. He has studied Thai massage therapy with teachers in the United States, Thailand and Canada. His previous DVD, Traditional Thai Massage: The Northern Style with Chuck Duff (180 minutes, $49.95 SRP), was released in May, 2006, and has received 5-star reviews on Amazon.
###