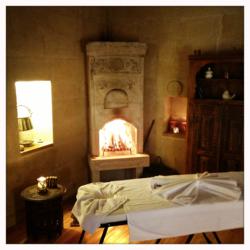 Cappadocia, Turkey (PRWEB) April 26, 2013
The Taskonaklar Boutique Hotel, located in Cappadocia, Turkey, an amazing and unconventional vacation lodging in the historic Cappadocia region of Turkey, is now offering in-room spa services. These services include massages, facials and body treatments. The hotel features rooms with medieval archways and fireplaces as well as antique furniture, carpets and other items.
"This is just one more reason to take advantage of the truly unique experience that we offer for our guests," stated Tolga Akarcali, a managing partner of the hotel. "We combine old-world ambiance and dining with all the comforts and amenities of a modern hotel. Plus, we provide a number of exciting activities in the area."
Rooms at the Taskonaklar Boutique Hotel are a pleasant combination of old and new.
All rooms feature rough-hewn stone walls and fireplaces as well as medieval arches, antique furniture and carpets. It is, however, also a luxurious experience that includes modern, comfortable beds and amenities such as flat-screen TV, free wireless Internet, mini-bar and spacious bathrooms. Each room is unique, with its own atmosphere and originality, allying simplicity and comfort.
Special suites with private terraces and panoramic views are also available.
In addition, a home-cooked breakfast, five o'clock tea and dinner on demand are provided each day, featuring real Turkish cuisine. The hotel also offers 24-hour front desk service and daily cleaning.
Daily activities include:

Hot-air balloon rides and tours
Hiking and picnics
Horseback riding
Pottery classes
Guided walks
Trips with official guides
Concerts and other cultural activities
"This is a vacation destination like no other," adds Akarcali. "The accommodations are historic and beautiful, and there is so much to do. Riding in a hot-air balloon is an amazing experience in itself, and the view of the countryside is breathtaking."And if you just feel like relaxing in your room, our in-room spa services are always available." It is the perfect way to relax after a day long of exploring the magical Cappadocia
About Taskonaklar
Taskonaklar is a uniquely handcrafted boutique hotel in Cappadocia,Turkey, that blends nature, history and local traditions. It has been designated by the United Nations Educational, Scientific and Cultural Organization (UNESCO) as a National Heritage Site.
Hotel rooms combine subterranean spaces, rough-hewn walls, and stone archways with open terraces and balconies that offer incredible views of the local landscape. Modern amenities are included. The hotel also provides meals and organized activities.
For more information, visit http://www.taskonaklar.com or contact the hotel at info(at)taskonaklar(dot)com or +90 384 219 30 01.