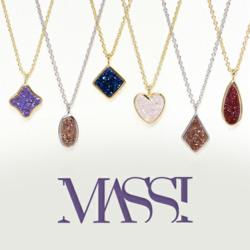 In creating the druzy collection, MASSI designers set out to capture the vitality and whimsy of spring in a jewelry line that delivers a contemporary approach to classic shapes
Los Angeles, Calif. (PRWEB) January 23, 2013
With the launch of their new druzy crystal collection, luxury brand MASSI is offering sparkling Coraggio heart-shaped pendants to five lucky fans on Facebook. The giveaway, being hosted on the Giando Massi Facebook page at http://exc.la/coraggiomassi, will run from January 17 through February 5.
Meaning "courage" in Italian, each Coraggio necklace retails for $95 and features multi-faceted, natural druzy crystals atop a gold-plated heart-shaped medallion affixed to a delicate gold-plated chain. The exquisite necklaces are available in an array of unique crystal hues, including gold, silver, dusk, rose, cobalt, blue violet, fuchsia and polar.
Along with Coraggio, MASSI's collection offers six different styles including Pianto, Trifoglio, Uovo, Scatola and Obelisco, available as a necklace (retail $95) or earrings with either lever back or stud detailing (retail $140), designed to be worn as a set or individually.
"In creating the druzy collection, MASSI designers set out to capture the vitality and whimsy of spring in a jewelry line that delivers a contemporary approach to classic shapes," said Derick Tortorella of MASSI. "Each lustrous druzy crystal sparkles with brilliance in celebration of the symbolic beauty of light and color of the season."
With several crystal shades available for each piece, the collection includes more than 50 color and style combinations to satiate those with the most discerning of tastes.
The luxury brand announced the launch of their Resort Collection last year, which included popular items such as the Cavallo bracelet and striped Cestino tote, and was recently featured on Good Morning America and The TODAY Show.
To enter the MASSI Coraggio giveaway, please visit http://exc.la/coraggiomassi
For media inquiries or to request samples of the druzy crystal collection, please contact: Amanda Goodhue at amanda.goodhue(at)excelamktg(dot)com.
ABOUT MASSI:
MASSI is a contemporary lifestyle brand inspired by life through the fashion lens. Marrying inspiration and lifestyle to create luxury apparel and accessory products, the MASSI line encompasses quality leathers, tasteful design and impeccable details. For more information, please visit http://www.massi.com
###