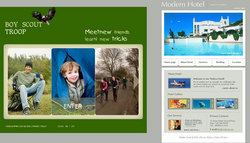 Managers of youth groups can rest assured that creating a powerful online presence no longer requires spending valuable budget money.
New York, NY (PRWEB) July 7, 2010
Massive Templates offers an affordable solution to those wishing to create unique, personalized websites without paying a fortune. Massive has hundreds of free Flash templates, available in a wide variety of categories to suit several niche needs. The company just released two new categories of Flash web templates – Hotels and Community.
The templates found at Massive are built using the latest innovations in web design, and include interactive design elements such as rollover effects, animated clip art, contact and registration forms and media files. All of the free templates at Massive are built using Flash, and each template is easily downloaded along with all the files necessary for customization. Flash template users can simply substitute their own content for what's contained in the template's code, with Flash MX and other Adobe Flash programs.
The new Hotel free Flash templates include all of these features and more, enabling budding hoteliers to promote themselves and their businesses online. The importance in making a first impression on potential guests cannot be over-stated, and most professionals in the hotel industry know that most guests do not visit hotels prior to checking-in. Booking through travel agents, packaged deals and hotel review websites receive scores of online traffic, and many of these middle-men never actually set foot themselves into the hotels they are reviewing. Each Flash-based Hotel template is custom-made by web designers associated with Massive Templates. Users can import their own hotel logo, photos, contact info and media files. Registration forms can be customized enabling guests to reserve rooms directly from the finished website.
The other latest addition to the designs at Massive is the Community category. These templates were specifically designed for after school clubs and youth organizations – groups that don't necessarily have the funds required to invest in a professional web designer. The free Flash templates in the Community category are filled with inspiring images, flawless page transitions, music players and visual effects designed to captivate their audiences, and encourage involvement in one's community. Photos of smiling children camping are found in the new Boy Scouts Template (see sidebar), while a tranquil pastoral scene makes up the background of the Lutheran Church Template. Managers of youth groups can rest assured that creating a powerful online presence no longer requires spending valuable budget money.
The entire downloading process is free. There is no registration process, no activation fees and no hidden agenda. MassiveTemplates incorporates a quality control component into its designs, as users can rate each template by the assignment of up to five stars. A full Learning Center with tutorials and helpful articles educate users on the basics of web design and using Flash. There is also a regularly updated blog with the most current information available on e-marketing and online website promotion.
Massive's impressive Premium template gallery hosts an even wider assortment of custom-designed templates, built using a combination of Flash, HTML, CSS and other coding languages. Premium templates range in price from about $38 to $150, and come with advanced features and a larger number of pages than the free Flash templates gallery.
MassiveTemplates.com was founded in 2009 in New York by a team of pro web designers and graphic artists committed to providing affordable web solutions to the average online consumer. For more information, visit MassiveTemplates.com.
###