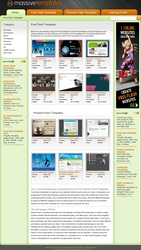 New York (PRWEB) October 27, 2009
Recently a new free Flash templates player joined this growing market. Massive Templates, the new player, is a new website that offers a collection of dozens of new and innovative free Flash templates to anyone interested in building their own website easily. Massive Templates provides a new solution to quality website creation in Flash and at affordable prices. The new free Flash templates section is full of rich web designs, divided into categories for the users convenience.
While the concept of DIY website building has been around for a while, most websites will offer website templates in html or Java. Flash, despite being a highly visual and dynamic programming language, has been traditionally used as a bonus feature in existing websites. Moreover, as this programming language is relatively complex, webmasters will often charge more for Flash web creations. Even so, Flash has been gaining impetus steadily thanks to the flexibility of the web designs and animations that it is possible to create with it. As a result, the language has been developing and more and more people are choosing to make a website in Flash.
This is where Massive Templates comes in. Massive Templates provides free Flash templates, each designed by a professional Flash designer with a specific purpose in mind. This means, that different free Flash templates are available for different purposes, such as personal websites, professional websites, photography portfolio websites etc. These templates can be easily downloaded onto your computer where you can modify them using Flash MX and other Adobe Flash programs. The entire process is free, making it possible to create a professional and stunning website without mortgaging your home. This also gives Flash template users an edge over their contemporaries who are using duller designs and unexciting coding languages.
Massive Templates website also includes a Learning Center with tutorials aimed at helping users get started on their own Flash website and a blog that deals mainly in web design and designing websites in Flash. With a growing list of new free Flash templates alongside their regular premium Flash template galleries, Massive Templates promises to lead quite a visual revolution in web design.
###