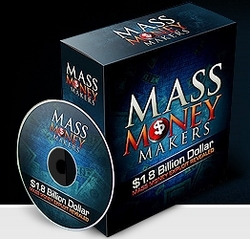 This is one launch you don't want to miss. - Shawn Casey
Duluth, GA (PRWEB) December 17, 2010
Internet marketing superstars Matt Bacak and Alen Sultanic believe that some New Year's resolutions are made not to be broken. In particular, they're gunning for Americans to stick with their financial goals in 2011. To that end, they're launching a new ClickBank product on December 28, 2010. This system, dubbed Mass Money Makers, was developed and is being split-tested by Bacak and Sultanic to ensure their customers make serious money in the New Year.
According to a November 2010 survey conducted by TD Ameritrade, for the second consecutive year, "75 percent of respondents plan to make at least one financial-related New Year's resolution in 2011." Saving more money, reducing spending and paying off debt topped respondents' specific economic goals. Mass Money Makers, a joint venture between stealth marketers Matt Bacak and Alen Sultanic, will debut on ClickBank just in time to help these individuals reach their 2011 aims. What's more, the product has the potential to bring in the cash these well-intentioned individuals need to achieve their resolutions before they even have time to think about breaking them.
The largest digital marketplace on the Internet, ClickBank has already earned Bacak unprecedented success. Earlier this year, his "The Secret Money Ring" secured a number one slot in the promotion category, registering a gravity ranking of 214.98 just two short weeks after it had launched. To date, his one-week sales figure of 15,000+ hasn't come close to being beaten. Couple those bragging rights with Sultanic's $4 million+ sales figure in 2010 and his super affiliate Commission Formula that earns him upwards of six figures in a single month, and Mass Money Makers combines surefire strategies for financial independence in 2011.
Bacak and Sultanic, however, aren't resting on their previous success laurels. Since March of this year, they've been building out the product's sales process with their subscribers, their JV, their affiliates and new customers in mind. That means that before Mass Money Makers even debuts, they've already built a big-name list of endorsers to serve as a proven high-converting funnel on the backend. They've also been performing a test run on ClickBank, with backing by the digital marketplace. All of this behind-the-scenes groundwork has been laid with one end result in mind: to break records.
A proven method for setting any online business on cash-generating auto-pilot, Mass Money Makers will launch on December 28, 2010, three days prior to Bacak's birthday. His cause for celebration, however, is poised to become one for everyone who gets in on the product come the New Year. As Shawn Casey, just one of the Internet marketing heavy hitters who will be promoting Mass Money Makers, stresses, "This is one launch you don't want to miss."
For more information on how Mass Money Makers can aid in the attainment of financial-related New Year's resolutions, contact Tamara Smith at (770) 623-3008. To learn more about the product online, visit http://www.massmoneyjv.com.
# # #