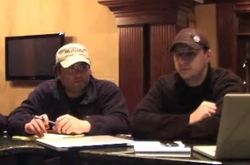 devoted exclusively to ensuring customers are being taken care of
Duluth, GA (PRWEB) December 19, 2010
Internet marketing–wary individuals may soon be changing their tune when Mass Money Makers launches on December 28, 2010 on the digital marketplace ClickBank. Those who are accustomed to being a lack of customer support by internet marketing product and services will find this product's contact campaign a breath of fresh air. Before the product even officially launches, its co-developers, Matt Bacak and Alen Sultanic, have secured two websites to avail themselves exclusively to their Mass Money Makers' customers.
Although not all Internet marketers have poor customer service, those that do often commit make even contacting them so frustrating that legitimate marketers, however unfairly, tend to get lumped in with them.
Thanks to irresponsible practices in the industry like these, Bacak knows all too well the stigma that's automatically attached to a new internet marketing product of service before it's even launched. To beat its detractors to the punch, Internet marketing legend Matt Bacak and underground marketer Alen Sultanic, already has two support domains ready, each one devoted exclusively to ensuring customers are being taken care of.
Anytime a Mass Money Makers' client feels as though his or her email inquiry has not received the attention it deserves, he or she can set his or her Web browser to either http://www.massmoneymakerssupport.com or http://www.contactmassmoneymakers.com. There, he or she will receive direct contact information for Bacak and Sultanic themselves, so that one of them can personally attend to the pressing issue. And to make that contact as simple and convenient as possible for everyone, the sites will list Bacak's and Sultanic's physical mailing addresses, phone numbers, fax numbers and email addresses.
This contact campaign is an extension of one that Bacak has had in place for his personal clients for a year and a half now. He explains, "Since launching ContactMattBacak.com, I've watched my Internet marketing reputation skyrocket. What I discovered was that what my peers consider easy to find contact information, proves difficult to locate for our customers. Alen and I believe strongly in our Mass Money Makers product and we want our ClickBank customers to rest assured that we're fully committed to their success with it. To that end, we've set aside not one but two dedicated portals for getting in touch with us. Between these two sites and ClickBank's built-in support, our brand new customers will have access to our support team 24 hours a day."
For more information on the Mass Money Makers' contact campaign, contact Tamara Smith at (770) 623-3008 or use these sites mentioned in this press release.
# # #