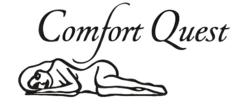 Agoura Hills, CA (PRWEB) October 12, 2011
Comfort Quest, Inc., manufacturer of the Side Sleeper Pillow designed to help women manage their pain and sleep well after all types of chest surgery, announced it will build a new section of it's web site dedicated to helping breast cancer patients prepare for surgery.
The start date for the new site is not yet determined.
The Side Sleeper Pillow was designed specifically for surgical recovery or breast pain relief. Most women experience breast pain after several types of chest surgery. The recovery pillow will help patients after surgeries such as Augmentation, Cancer, Open Heart, Mastectomy, or Lumpectomy.
The new section of the website will provide a list of products and aids to have in place for the post surgery recovery which will help the patient prepare. Another key feature of this site is a link to find a local Certified Mastectomy Fitter to work with in advance of surgery. Most patients are not given the list until after surgery.
"The need for this information is important because most cancer patients say they do not get this valuable knowledge until after their surgery and sometimes much later," said Ben Kass President of Comfort Quest, Inc. "So many times we hear from our customers who wished they were more prepared. A relationship with a mastectomy fitter before the surgery would ensure the patient is prepared for what happens after surgery. This information is in regard to products and general knowledge of what to expect."
The breast support pillow has a manufacturer's suggested retail price of $125. It is currently offered for $69.95 on the company's web site as a special introduction sale. Comfort Quest already has a network of plastic surgeons and certified fitters in the United States and Canada which will supply their patients with the Side Sleeper Pillow or direct them to Comfort Quest's web site at http://www.mycomfortquest.com.
Comfort Quest, Inc is a southern California based corporation located in Agoura Hills. The company intends to continue to develop post surgery products for women. The Side Sleeper Pillow is the company's first product in this category.
For additional information:
Ben Kass (818) 665-2012
President
ben(at)mycomfortquest(dot)com
http://www.mycomfortquest.com
Copyright© 2011 Comfort Quest, Inc.
###