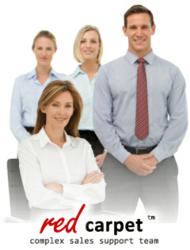 We are thrilled to bring all of our carrier knowledge and experience in project management to our valued partners.
Sandy, UT (PRWEB) November 07, 2012
Telarus Inc., the premier telecom master agent and patent holder of real-time carrier quotes, today announced the launch of RedCarpet; a partner support team that provides pre-sale and post-sale support for all CenturyLink, AT&T, Verizon, and complex sales above $10,000/month. The service, in beta for all of 2012, is now available to all Telarus partners.
"Enterprise sales opportunities bring with them a whole new set of challenges for our partners," commented Robert Butler, VP of Sales - West for Telarus, Inc. "Our seasoned RedCarpet staff has decades of experience that they leverage to help our partners find the best-fit suppliers for each individual situation. On the back-end, the project team manages enterprise orders to ensure that the contracted services are delivered accurately and on-time. Since our partners can't earn revenue until the service is turned up and billing, having a team of professionals making sure their orders provision quickly is key to increased partner profitability."
The RedCarpet team is led by Doug Miller, Director of Complex Sales for Telarus. Mr. Miller has been provisioning large sales for Telarus for over 3 years and for CenturyLink, formerly known as Qwest, for 10 years. The RedCarpet team provides the Telarus partner community with regular updates on their large orders and meets with the respective carriers regularly to ensure each aspect of the setup is going smoothly. When an order shows signs of delay or error, the RedCarpet team automatically escalates the issue to the carrier and in most cases has direct access to the individuals working on the account setup.
"We are thrilled to bring all of our carrier knowledge and experience in project management to our valued partners," added Doug Miller, Director of Complex Sales and leader of the RedCarpet team. "We have already managed several enterprise deals this year and they have all gone extremely well. On a few occasions we were able to intervene without our partner even knowing anything was wrong. At the end of the day, our job is to make all involved parties look good and to speed up commission payments to our partners through on-time installations."
"Our RedCarpet group is a key part of our long-term strategy," commented Lance Akins, VP of Sales - East for Telarus, Inc. "Telarus has generally been viewed as a technology company but our message to the market is that we have tremendous people behind the scenes who can really make a difference. To our delight, the plan is clearly yielding fruit as our funnel of enterprise sales opportunities continues to scale."
Telarus partners who utilize the RedCarpet team on any of their opportunities do not sacrifice a commission reduction when compensation is received. If you are interested in taking advantage of the unique value of Telarus' RedCarpet complex sales team, please contact Justin Chugg at (877) 346-3232 for more information.
About Telarus
Telarus, Inc., a value added distributor that holds contracts with the world's leading commercial telecommunication carriers, makes it easier and more profitable for solution providers, VARs, and MSPs to sell and source hosted PBX service, voice and data WAN solutions. Our patented GeoQuote platform combines real-time carrier pricing with advanced research features and branded proposals. Telarus' experienced Sales staff is strategically focused on MPLS service, enterprise WAN and high-capacity bandwidth solutions, making it easier to find the best offer, every time. For its part, Telarus has been named the top Master Agent by the members of the Telecom Association in each of the past three years, the first and only company in the carrier channel to accomplish this feat. Whether you are a top producer or a voice-and-data expert just starting out on your own, there is a place for you in the Telarus community. For more information on the Telarus partner program, please visit http://www.telarus.com or call the new partner hotline at 877-346-3232.