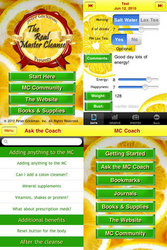 It took nearly eight months to get it right!
Clearwater, FL (PRWEB) July 13, 2010
The Master Cleanse Coach was just added to Apple's iTunes App Store July 11th. It permits users to track their daily progress and trade daily journals by email including comments, measurements, weights, before and after pictures and graphs.
It also contains all of the information from Peter Glickman's bestselling Master Cleanse book, Lose Weight, Have More Energy & Be Happier in 10 Days, updated to 2010, and an Ask the Coach section with answers to 114 questions.
"There is so much misinformation on the Internet now that I really want people to have the correct instructions. Those who know which days are challenges and what to expect do very well indeed. The Master Cleanse isn't about willpower. It's about knowledge," said Glickman. "I also created the Master Cleanse Community for app users to be able to blog their experiences."
"I wanted to go the extra mile. So, I added the ability to post comments to Twitter and Facebook directly from the app." Adding that it took nearly eight months to get it right, Glickman said he wanted people to be able to store multiple journals at once so friends could keep up with each other.
Even before Beyonce, Robin Quivers, Gwyneth Paltrow, David Blaine and now most recently Demi Moore and Ashton Kutcher; Glickman's website back in 2004 TheMasterCleanse.com along with the first edition of his book helped to start the buzz. Once the celebrities started talking, Glickman found himself on the Today Show, CBS National News, The NY Times and The London Timesand More!
For more information on the The Master Cleanse iPhone App, visit The Master Cleanse Community.
###