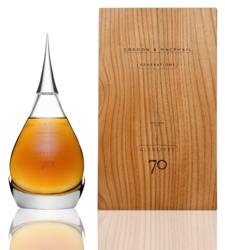 Although it resonates with aged character – and, indeed, characteristics from another era - it retains vitality, both on the nose and in the mouth.
(Vocus/PRWEB) 11 March 2011
Online Retailer Master of Malt (http://www.masterofmalt.com/) are first to stock Glenlivet 70 year old, an extraordinary single malt that was launched in March 2011. The Scotch, with a price tag of £13,000 a bottle, has been described by critics as "stupendous", and is one of just two 70 year old single malt whiskies ever released.
Distilled at the Glenlivet distillery on the 4th February 1940 during the height of the Battle of Britain, the spirit was filled into a Sherry cask, where it rested for the last seventy years. During the ageing process, whisky actually evaporates out of the cask, a phenomenon known in the industry as "the angel's share". Because of this, there was only enough liquid for 100 full-sized decanter bottles – adding to its rarity.
The 700ml decanters are on sale at Master of Malt with a price tag of £13,000, and there are also smaller, 20cl-sized bottles with a price of £3,200 each. The whisky was bottled in 2011 by the renowned Scotch whisky brand Gordon and MacPhail, and it is the second part of their "Generations" series, the first of which was the world's oldest whisky, a 70 year old single malt from the Mortlach distillery.
The bottles are presented in hand-blown crystal decanters, with British hallmarked sterling silver stoppers, and silver bases. The wooden boxes are handmade out of Scottish Elm. Famed critic Charlie MacLean describes the whisky: "Although it resonates with aged character – and, indeed, characteristics from another era - it retains vitality, both on the nose and in the mouth."
You can purchase a bottle of Glenlivet 70 Year Old 1940 from Master of Malt for £13,000: http://www.masterofmalt.com/whiskies/glenlivet-70-year-old-1940-whisky/
About Glenlivet 70 Year Old 1940

About Master of Malt

Established in 1985
One of the UK's leading Online Spirits Merchants
Highly rated independent bottler, all of whose single cask whiskies scored over 90 points in the Jim Murray Whisky Bible
Follow Master of Malt

###