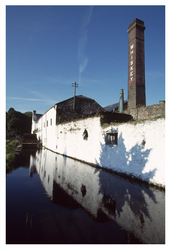 The prize includes flights; wining and dining in Dublin; and two nights stay at a luxurious hotel.
(PRWeb UK) July 28, 2010
Master of Malt are offering a once in a lifetime opportunity to win a free trip for two to the Cooley distillery in Ireland. The prize includes flights; wining and dining in Dublin; and two nights stay at a luxurious hotel.
Following the competition's unprecedented success, there are only 88 remaining chances to enter, and only a few days left (the competition closes at 6pm on the 1st August 2010).
The lucky winner and a friend will be flown out to Ireland from any UK airport. They will be treated to an exclusive tour of the Cooley distillery, a whiskey tasting, two nights stay at a luxurious hotel, wining and dining for both nights, as well as a very special personalised bottle of Tyrconnell whiskey, and a bottle of the brand new Kilbeggan Distillery Reserve. It's incredibly simple to enter; all entrants must do is buy any full-sized (70cl) bottle of Cooley whiskey from the Master of Malt website (http://www.masterofmalt.com).
The Cooley distillery has a large range, made up of some astonishing whiskeys, including Tyrconnell, Connemara, Kilbeggan, Greenore and Locke's. Entrants will receive one entry for every bottle they buy, and the cheapest eligible whiskey is Kilbeggan, at just £17.95. Great value for money for a whiskey that tastes of creamy, sweet malt, and one that offers the chance to win a once in a lifetime prize!
The draw will close at 6pm on the 1st August and the lucky winner will be named on or before the 7th August 2010. This really is the ultimate Irish whiskey experience, and one not to be missed.
Thanks to the limited number of chances to enter, participants have a very high chance of winning the competition. Because of this, the draw is likely to sell out before the closing date.
Read more about the competition on the Master of Malt Whisky Blog or browse the full range of Cooley Whiskeys.
About Master of Malt

Established in 1985
One of the UK's leading online whisky and spirits retailers
A highly rated independent bottler, all of whose single cask whiskies scored over 90 points in the Jim Murray Whisky Bible 2009.
Follow Master of Malt on Twitter: http://www.twitter.com/masterofmalt
Read the Master of Malt blog: http://www.masterofmalt.com/blog
###