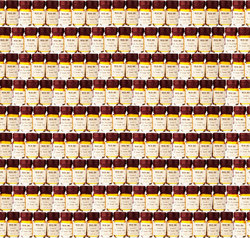 You can try out a 3cl sample before you buy at just the fraction of the cost of a full-sized bottle.
(PRWeb UK) July 3, 2010
Launched in May 2010, Master of Malt's revolutionary whisky sample service "Drinks by the Dram" has gone from strength to strength and now comprises over 250 different Whiskies and other fine spirits, all available in cute little 3cl sample pots.
Since the project's inception the samples have become incredibly popular, as spirits connoisseurs and newcomers flock to the site to try tasters before shelling out on the full bottle. It also gives drinkers the opportunity to experience spirits they might never have been able to try in any other way, thanks to the low price point of the samples. The selection of 3cl "drams" has increased rapidly since launch, smashing through the 250 mark at the end of July.
The collection started with the Glenfarclas range of single malt Whiskies, including the impressive Family Cask vintages which span every year from 1952 to 1994. Now comprising spirits from all over the globe from Bourbon to Gin, Cognac to Vodka and even lesser known spirits like the Mexican drink, Sotol.
The 250th whisky to be made available as a 3cl whisky sample was the critically acclaimed Nikka Taketsuru 21 Year Old (a sample of which is available for just £4.85). It's a blended malt whisky – meaning a blend of single malts – and it won the coveted title of "World's Best Blended Malt Whisky" three times in four years at the World Whiskies Awards run by Whisky Magazine.
Its stable-mates in the Nikka whisky range include a number of award winners, one of which is Yoichi 20 Year Old – a single malt that top whisky critic Jim Murray rated with a staggering 95 points in his Whisky Bible and available for just £10.45 by the dram – considerably less than the full-sized bottle price of £184.95.
Master of Malt has made some of the world's most revered spirits available to nearly everyone for the first time. You can try out a 3cl sample before you buy at just the fraction of the cost of a full-sized bottle, saving whisky lovers the agony of uncorking a new bottle only to find it's not to their taste.
About Drinks by the Dram

About Master of Malt

Established in 1985
One of the UK's leading online whisky and spirits retailers
A highly rated independent bottler, all of whose single cask whiskies scored over 90 points in the Jim Murray Whisky Bible 2009.
For further information please visit http://www.masterofmalt.com
Read the Master of Malt blog: http://www.masterofmalt.com/blog
Or follow Master of Malt on Twitter: http://www.twitter.com/masterofmalt
###