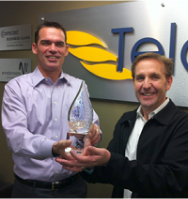 Telarus continues to make it easy for VARs, MSPs, and system integrators to get in to the residual telecom and IP WAN network business.
Sandy, Utah (PRWEB) February 25, 2013
Telarus, Inc., the premier telecom master agent and patent holder of real-time carrier quotes, announced today that Adam Edwards and Robert Butler have been named CRN 2013 Channel Chiefs by UBM Tech Channel. This prestigious list of the most influential and powerful leaders in the IT channel recognizes those executives directly responsible for driving channel sales and growth within their organization, while evangelizing and defending the importance of the channel throughout the entire IT Industry.
"The 2013 Channel Chiefs list recognizes vendor executives dedicated to driving channel programs in the IT marketplace," said Kelley Damore, Senior Vice President, Editorial Director, CRN. "Our annual Channel Chiefs issue is a must-read for IT solution providers evaluating new vendors or looking to expand solution offerings. These are the people, the products and the programs that any savvy solution provider needs to know. We congratulate Telarus' Adam Edwards and Robert Butler for their stellar record of business innovation and applaud them for their continued dedication to the partner community."
This is the second consecutive year Adam Edwards, president of Telarus, has been recognized as a CRN Channel Chief, and the first for Robert Butler, VP of Sales for Telarus.
"On behalf of all of employees and partners of Telarus, we'd like to congratulate Adam Edwards and Robert Butler for their continued success," commented Patrick Oborn, co-Founder of Telarus. "Under their visionary leadership our company has added more support resources, marketing resources, and research technology for our partners looking for the optimum carrier WAN and cloud solutions for their clients. Helping our partners find the best data, voice, and cloud products at the best possible price is our mission. The solution providers armed with the best information usually equates comes out on top, and a win for our partners is a win for us."
"Telarus has remained focused on VARs since I first joined Telarus back in 2007," observed Robert Butler, VP of Sales for Telarus. "We've continued to make our VAR referral program a priority, matching them up with the best carrier service experts, creating a direct-pay model for them, and easing the transition from one-time to residual payments for carrier services. Helping technology VARs add the WAN to their solution set will continue to remain a core focus for our company."
For over ten years, Channel Chiefs were selected by the CRN editorial team based on channel experience, program innovations, channel-driven revenue, and public support for the importance of IT Channel Sales. Selected by CRN's editorial staff, the 2013 Channel Chiefs list is featured in the February 2013 issue of CRN Magazine and will be featured online at http://www.crn.com.
About UBM Tech Channel
UBM Tech Channel, a UBM company, is the premier provider of IT channel-focused events, media, research, consulting, and sales and marketing services. With over 30 years of experience and engagement, UBM Tech Channel has the unmatched channel expertise to execute integrated solutions for technology executives managing partner recruitment, enablement and go-to-market strategy in order to accelerate technology sales. To learn more about UBM Tech Channel, visit us at: http://www.ubmchannel.com.
UBM llc
UBM llc is a leading global business media company. We inform markets and bring the world's buyers and sellers together at events, online, in print and provide them with the information they need to do business successfully. We focus on serving professional commercial communities, from doctors to game developers, from journalists to jewelry traders, from farmers to pharmacists around the world. Our 6,000 staff in more than 30 countries is organized into specialist teams that serve these communities, helping them to do business and their markets to work effectively and efficiently. For more information, go to http://www.ubm.com
About Telarus, Inc.
Telarus, Inc., a value added distributor that holds contracts with the world's leading commercial telecommunication carriers, makes it easier and more profitable for solution providers, VARs, and MSPs to sell and source voice and data WAN solutions. Our patented GeoQuote platform combines real-time carrier pricing with advanced research features and branded proposals. Telarus' experienced Sales staff is strategically focused on enterprise WAN and high-capacity bandwidth solutions, making it easier to find the best Ethernet over Copper offer, every time. For its part, Telarus has been named the top Master Agent by the members of the Telecom Association in each of the past three years, the first and only company in the carrier channel to accomplish this feat. Whether you are a top producer or a Ethernet internet expert just starting out on your own, there is a place for you in the Telarus community. For more information on the Telarus partner program, please visit http://www.telarus.com or call the new partner hotline at 877-346-3232.