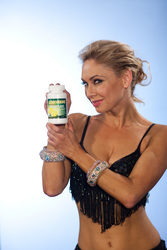 I'm a very social person
Los Angeles, CA (Vocus) October 27, 2010
How does one enjoy the holidays and get into the celebration spirit without gaining weight? It's a problem for anyone who loves being social and loves this time of year. Kym Johnson of "Dancing with the Stars" has come clean on her secret to keeping the weight off without giving up her favorite holiday foods. She isn't talking about fasting, hours of grueling workouts, or passing up all that yummy food. Not anymore. The Lemonade Weight Loss Diet is what Kym and hot celebrities that always need to be camera ready are using to drop weight, gain energy, gently cleanse and detoxify their systems. These caplets are the Master Cleanse for the 21st Century.
People are losing 5,10, up to 17 pounds in just 14 days by taking two tablets with each meal. The Lemonade Weight Loss Diet helps flush away toxins and built up fecal matter. The weight loss and cleansing benefits of this diet can lead to improved health and enhanced well being all from one simple supplement. It's all natural, fast acting, and simple to use.
"I'm a very social person," says Kym Johnson with her infectious Australian enthusiasm. "There's no way I'm going to give up going out with my friends or saying no to parties and celebrations from Halloween, right through ringing in the New Year." So how does she do it without seeing the numbers on her scale go sky high? "Now, it's simple," she confides. "I just take 2 caplets three times a day. I am enjoying the foods I love, but feeling full faster, and my body is being detoxified on a daily basis. It's brilliant!" she proclaims.
With The Lemonade Weight Loss Diet, there is another reason to celebrate the holidays, and lose weight at the same time.
Does The Lemonade Weight Loss Diet Work?
Baron Brooks, a well respected nutritional expert, explains why The Lemonade Weight Loss Diet is such a powerful detox and diet combo. "There is some very sound reasoning behind the science of The Lemonade Weight Loss Diet. Let me tell you the specific benefits that each ingredient can give you," he explains.
Grade B maple syrup contains a variety of minerals and vitamins. These include iron, chlorine, potassium, calcium, magnesium, manganese, copper, phosphorus, sulfur and silicon not to mention Vitamins A, B1, B2, B6 and C. Also present is Pantothenic acid, a type of B-Vitamin that can lower cholesterol.
Including good quality maple syrup in the formula actually provides you with many of the vitamins and minerals that you need during a cleanse.
Lemons are used to produce more bile in the liver, trapping fat molecules and allowing them to be easily eliminated; they also help to decrease your appetite.
Cayenne pepper increases metabolism and aids digestion. It is also a good source of Vitamins A, B, C, Calcium and Potassium.
"The Lemonade Weight Loss Diet is the Master Cleanse for the 21st Century," states Brooks. "It packs a bunch of powerful benefits into a small pill. It speeds up your metabolism, cleans your internal organs, and helps you lose weight and even helps you feel healthier!"
"It's the no mess, no stress, and weigh less diet!" insists Kym Johnson. For more information please visit http://www.lwldiet.com.
###