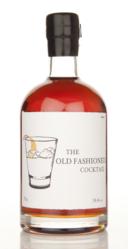 The Old Fashioned Cocktail joins The Handmade Cocktail Company's range of classic "bottle-aged" cocktails
(PRWEB UK) 7 September 2011
The Handmade Cocktail Company is proud to announce the launch of its newest pre-bottled cocktail, The Old Fashioned Cocktail.
Made using a superb rye-rich bourbon, a secret blend of bitters and the finest orange peel - you can now enjoy this classic cocktail without having to buy all the separate ingredients. To serve, simply stir with ice and garnish with orange peel.
The Old Fashioned Cocktail joins The Handmade Cocktail Company's range of classic "bottle-aged" cocktails, which includes Gin Martini, Manhattan, Negroni and others. The cocktails are all made from the best ingredients, which are expertly mixed to classic recipes, allowing the flavours to marry in the bottle. The result is six perfectly balanced drinks which have already received a multitude of excellent reviews from the press and the public alike.
The Old Fashioned and The Handmade Cocktail Company's other cocktails are available from online retailer Master of Malt or in all four Selfridges stores in London, Birmingham, Manchester Trafford Centre and Manchester Exchange Square.
Tasting Notes
Nose: Big on buttery, spicy, intense bourbon notes, with cardamom and black pepper. Hints of rum and raisin icecream develop in the glass, alongside potpourri, dried orange zest and juniper. Very intense and inviting! It builds, and the longer you leave it in the glass, the more earthy winter spice notes appear.
Palate: Tremendously mouth-filling, it has a beautifully syrupy texture and offers up notes of clove-studded oranges, toffee, vanilla, lemon sherbet and charcoal. Buttery, sweet and well rounded, the palate develops with notes of freshly grated cinnamon, alongside nutmeg and crystallised ginger.
Finish: Very long, with an almost juicy cinnamon note clinging on like chewing on Big Red gum. A hint of cough syrup on the tail too, it remains incredibly zesty for minutes on the tongue, with touches of black pepper and allspice.
Overall: Very spicy, buttery and intensely zesty. This is just what you want from an Old Fashioned! Serve with ice and cut a thick slice of orange peel. Express the peel over the glass and stir it in. Delicious!
About Vintage Cocktails
The concept of the 'Vintage Cocktail' range is simple – you get all the ingredients for a superb cocktail pre-mixed, all you have to do is pour it over ice, stir, then strain off into your glass and garnish (in this instance with a slice of orange peel). Each bottle carries a subtle set of roman numerals in the top right-hand corner indicating the year that the cocktail was 'born'.
The Range:

The Old Fashioned Cocktail
The Gin Martini Cocktail
The Rob Roy Cocktail
The World's Best Cocktail
The Negroni Cocktail
The Manhattan Cocktail
About Master of Malt:
Established in 1985
A highly rated independent bottler, all of whose single cask whiskies scored over 90 points in the Jim Murray Whisky Bible 2009
One of the UK's leading Online Spirits Merchants, with a huge range of whiskies, rums, brandies, gins, cocktails and other fine spirits…
Master of Malt Twitter: @MasterOfMalt
###