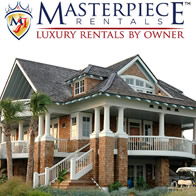 We love this version of the site and know that the new design and functionality together with our internet marketing efforts will significantly benefit travelers, rental property owners, and casual site visitors
Wilmington, NC (PRWEB) October 29, 2012
MasterpieceRentals.com, a world leader in vacation rental marketing, is pleased to announce a number of exciting changes to the luxury vacation rental business. In August, 2012, the site underwent a change in ownership. The new owners are Nathaniel Criss, Megan Criss, and Anna Platz, partners that also run an internet marketing and search engine optimization agency, Wilmington SEO & Marketing, Inc., as well as other internet properties including ForTheBestRate.com. With an eye towards online marketing, the new owners are eager to reach a wider audience of both travelers and rental property owners.
The website is dedicated to connecting vacation rental property owners with travelers interested in booking accommodations. Travelers can search the database of worldwide properties to find photos and detailed descriptions of rental properties that fit their travel criteria. They can then contact the property owners directly to inquire about booking the property for their trip. The site is free to use for travelers. Property owners must register and pay a low annual fee to be able to list their property.
MasterpieceRentals.com is currently offering a limited-time 50% discount on an annual property listing. Vacation rental owners can enter promotional code PR50 on the payment page to take advantage of this special offer.
This month, the partners unveiled a brand new website design for MasterpieceRentals.com as well as upgrades to the site functionality. The home page design makes the site more engaging and easier to navigate. A refined search feature helps travelers narrow down their property search results. Individual property listings showcase bigger photos with a lightbox slideshow display and an opportunity for owners to add videos of the property. Visitors to the site can sign up for a MasterpieceRentals.com email newsletter which will keep travelers informed of new property listings and will provide tips and resources for property owners to better highlight their properties on the site.
"We are extremely excited about the changes to MasterpieceRentals.com," comments partner Megan Criss. "We love this version of the site and know that the new design and functionality together with our internet marketing efforts will significantly benefit travelers, rental property owners, and casual site visitors."
Stay up-to-date by signing up for the email newsletter and visiting the blog at http://www.MasterpieceRentals.com/blog/.
Contact:
Megan Criss
Masterpiece Rentals, LLC
505 S. 4th St.
Wilmington, NC 28401
910-547-6908
admin(at)masterpiecerentals(dot)com