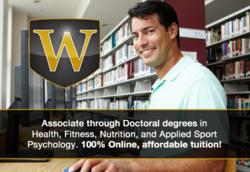 Sport psychology is an exciting career for sports coaches, psychology professionals and fitness experts.
Rancho Santa Margarita, CA (PRWEB) January 20, 2013
As more and more athletes and coaches recognize the role the mind plays in sports and activity, the need for qualified sports psychologists continues to grow. To serve athletes of all levels, Wexford University offers a flexible online master's of science degree in Applied Sport Psychology. Registration for spring classes just opened online at http://wexford.edu/degree-programs/applied-sport-psychology-online-masters-degree/, and spring classes begin on April 1.
Sports psychology experts and mental training coaches can help both fitness enthusiasts and athletes reach the next level, develop skills for training and relaxation.
"Sports psychologists can make the difference between first and second place in a competition," said Jack Bauerle, Chancellor of Wexford University. "Wexford University's online master's degree in Applied Sport Psychology offers the training needed to succeed in the world of amateur or competitive sports today, giving you the information you need to help others train to be their very best."
Graduates of the Applied Sports Psychology program can use this multi-faceted degree to work with elite and professional athletes, assist youth and adolescents in performance enhancement, and transfer these skills to the corporate world to engage in executive coaching.
In the online master's program, students will study the following:
Intro to Sport Psychology
Ethical Issues in Applied Sport Psychology
Foundations in Precision Communication Skills
Cognitive and Affective Behavior
Applied Mental Training Techniques
Developing a Sport Psychology Coaching Business
Principles of Positive Psychology
And more.
Registration for these courses and other online health, wellness and fitness degrees is now available online at http://wexford.edu/degree-programs/applied-sport-psychology-online-masters-degree/. Wexford University offers a variety of online wellness degrees from associate to doctoral level programs.
About Wexford University
Wexford University is dedicated to providing world-class education through cutting-edge technology, offering direct application degree programs in an accelerated format with 100 percent online learning to save time and money. Programs include an associate of arts degree in Fitness Training, bachelor's degree in Health and Fitness, master's degree in Nutrition and Exercise as well as master's degree and doctorate degree in Applied Sport Psychology. Wexford University is the higher education division of NESTA (National Exercise & Sports Trainers Association). For more information, please visit http://wexford.edu/.